Currently, 97% of sails end up in a landfill or are incinerated at the end of their life.1 
A new collaboration between Cornish businesses will see waste sails collected and upcycled into reusable beach cleaning bags – ready to tackle even more plastic pollution.
Social-enterprise, Waterhaul, produces beach cleaning equipment including litter pickers and bag hoops, made from 100% recycled plastic fishing gear collected from the British coastline. These tools are put to good use by over 10,000 litter pickers and community groups all across the UK, however the missing link until now, was a durable and reusable alternative to single-use bin bags.

Waterhaul has teamed up with Falmouth based maker Rory McKellar from Ocean Republic, and Clean Sailors' ReSail initiative, to give old sails a second life.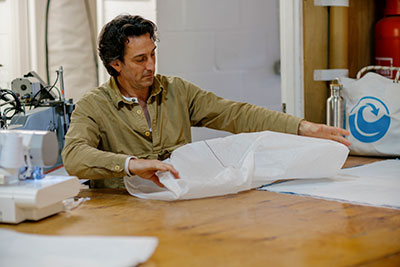 Waste sails are collected through Clean Sailors Resail scheme and are then hand-made into the beach cleaning bags by Rory and his team from Ocean Republic in their Penryn-based sail-loft. Rory's specialism has so-far been in creating surfboard covers made from upcycled sails and wetsuits, but the new partnership will enable him to expand his operations.
Rory said: "I'd admired the work Waterhaul does, transforming this problem of plastic pollution into part of the solution with their recycled litter pickers. It's a fantastic opportunity to be able to use my expertise around upcycling and Clean Sailors collection program, to be part of this impact. The ocean for me is something I've always been in love with. I live in it, swim in it, surf in it, and I think we should all protect it."
The upcycled sail bags are designed to be a perfect fit for Waterhaul's recycled bag holding hoops – which hold the bag open for easy litter picking. Each of these hoops are made from 330 grams of recycled fishing nets and ropes.
Harry Dennis from Waterhaul said: "We're really excited to be tackling a new waste stream, whilst finding a solution for beach cleaners – and to be doing so by working together with other innovative businesses."
"We are super excited to deepen our partnerships with Waterhaul and Ocean Republic! Aside from being super teams, we firmly stand alongside their missions for transforming perceived waste materials into new, useful products. Being able to join forces in our home county makes it all the more special." says Holly Manvell, founder of Clean Sailors.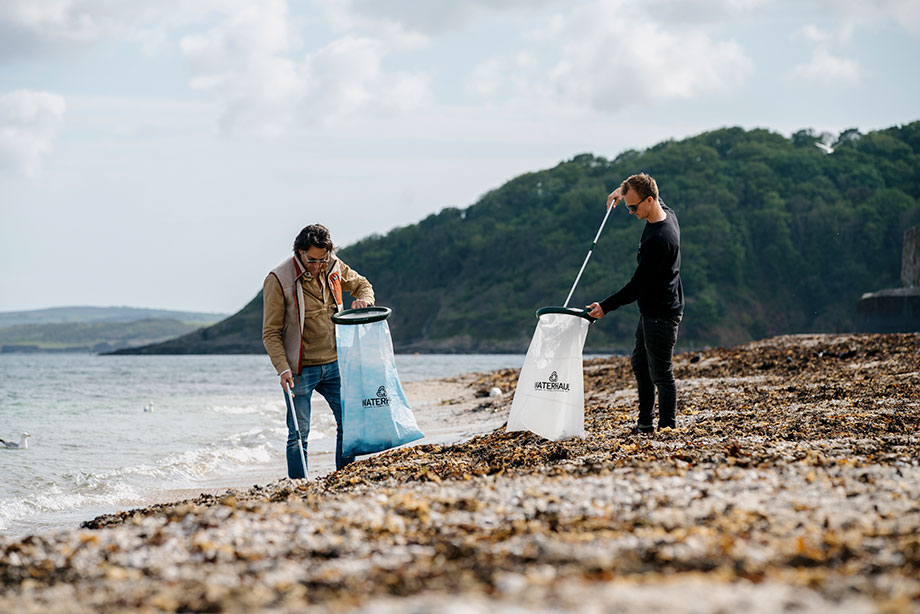 Boat owners are being urged to participate in the Clean Sailors Resail initiative. End of life sails can be dropped off at multiple locations in the UK (and Europe) to support input of sail material into the project.
The upcycled sailcloth bags will be available online at https://waterhaul.co/collections/litter-pickers/products/upcycled-beach-clean-bag and retail at £8.50.
---
Waterhaul is a Newquay based social-enterprise that transforms the ocean's harmful and abundant form of plastic (ghost gear – waste fishing gear lost or discarded at sea) into products to inspire people to connect with and protect the ocean. For further details about Waterhaul, or to get involved with litter picking, please visit https://waterhaul.co or follow on Instagram @waterhaul_co
Ocean Republic is a environmentally conscious business that promotes and implements sustainable practices whilst developing awareness and an appreciation for the ocean. See more at https://www.oceanrepublic.com
Clean Sailors is a global not-for-profit mobilising the global sailing community in conservation of our seas. The Team launched ReSail, a global platform giving sailing things a second life, in March 2022 See more at https://cleansailors.com/or to find your nearest sail donation point https://resailbycleansailors.com/
Source: cleansailors.com