If you look through the list of skippers and co-skippers for the Transat Jacques Vabre Normandie Le Havre 2023, you will discover that the biggest representation of any nation in the race, apart from France, is from Britain. Eight British sailors will take part in the biennial double-handed classic which starts from Le Havre on 29 October while, on the IMOCA website, there are 10 skippers from Britain listed as currently active in the Class.
It underlines that despite the almost complete lack of British-based commercial sponsors in IMOCA, British sailors are still managing to make the grade in the most exciting and demanding short-handed offshore racing class in world sailing.

Among them right now is the veteran Mike Golding and Sam Davies, a key figure in the IMOCA circuit and a sailor who will be aiming for a top-five finish in the next Vendée Globe on her new Initiatives-Coeur 4.
Then there are a group of sailors who learned their trade at the Isle of Wight-based Artemis Offshore Academy – Sam Goodchild, Alan Roberts, Will Harris and the Australian-Brit Jack Bouttell. And finally there's Pip Hare and newcomer Nick Bubb.
Two other skippers are not taking part in the Transat Jacques Vabre this year – James Harayda, whose boat is undergoing repairs, and Phil Sharp who is launching his new IMOCA (OceansLab).
It's an impressive cohort and the Brits are enjoying seeing more of them about as they work their way up the IMOCA ladder. "It's really cool," enthused Hare who, along with Harayda, has chosen to remain based in the UK with her Medallia – sponsored team located in Poole Harbour. "That's because we are all promoting the sport within the UK and we are giving British fans more things to watch and to engage with. We're increasing the popularity of our sport through a broadened reach," she added.
Harris, who co-skippers Team Malizia with the German star Boris Herrmann, is equally positive about the return of the Brits to the Class and especially about the fact that British sailors are now well-established on some of the best boats and in the most competitive teams in IMOCA.
"Yeah, it's really nice to see the growing British presence," said Harris in Lorient during a break from preparations for the Transat Jacques Vabre. "We are coming back from a bit of a dip to be honest, when we struggled to break into that top bunch. Alex (Thomson) was always there and Ellen (MacArthur), but now we are here with more presence and have increased our chances of putting in top results."
A remarkable feature of the current crop of British solo and double-handed racers in IMOCA is the Artemis Offshore Academy influence, with four "graduates" of the OC Sport-run sailing school based in Cowes. It was set up in 2009 with the aim of finding and training future British solo racers and preparing them for the Figaro championship and ultimately the Vendée Globe. The Academy closed down in 2016, but the fruits of its vision are only now fully becoming clear through the exploits of Goodchild (For The Planet), Harris, Bouttell, who will sail the Transat Jacques Vabre on Initiatives-Cœur 4 alongside Davies, and Roberts who will race with Clarisse Crémer on L'Occitane En Provence. Harris attended the Academy in its final year. "It's really impressive to see what its sailors have achieved," he said. "I guess no one really imagined how long the timeline would be to see the benefits of that programme paying off."
Roberts says there is a nice familiar feeling about being in the IMOCA Class alongside his old friends from the Academy days. "It's almost the same little group of us – all ex-Figaro and Artemis guys, so it kind of feels like it is that little bunch really," he said.
The approach of the Academy generation has been to invest their time and energy in France, absorbing the culture of solo ocean racing in Brittany that has produced so many excellent sailors working their way through the Mini and Class 40 divisions into IMOCA.
Roberts laughs about how well integrated in their adoptive country they have become. "Me, Jack (Bouttell) and Sam (Goodchild) are all basically as French as you can get for an English person," he said. "I think Sam and Jack are even paying tax out here. I'm certainly not because I'm not earning any money."
But for Hare, being based in Britain is an important part of her mission as a leading professional sailor, as she explains: "I took an active decision to stay within the UK," she said. "It would have been a lot easier to go to France from a logistical and practical point of view of running the campaign. There is a body of experience there that every day I would love to tap into. But I'm really passionate about generating a wider appreciation for the sport within the UK."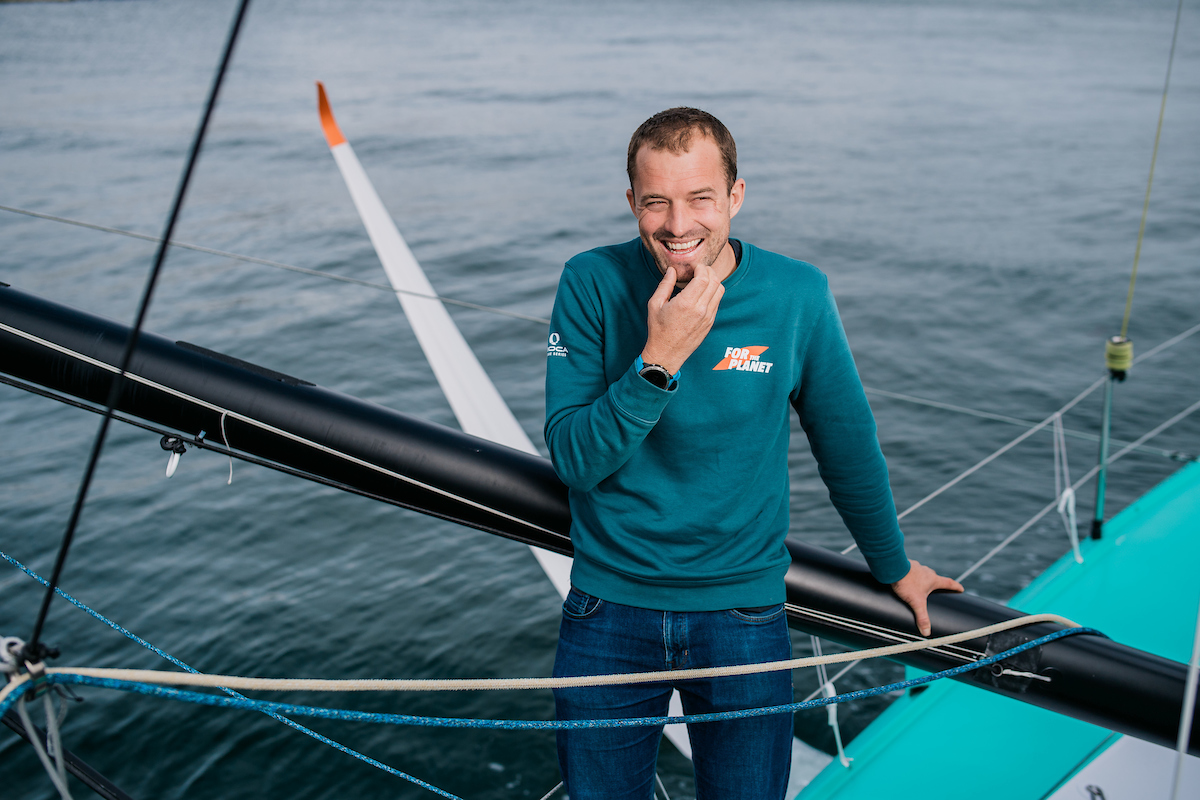 The strong British presence only underlines the conundrum about sponsorship and the failure of British solo racers to hook major Britain-based companies to support them. Roberts remarked that explaining why this is the case would be the start of a very long conversation and he wished he knew what the answer to this problem was.
Harris summed up this key issue as follows: "All of the British sailors you see in IMOCA have thought about this question for probably the last 10 years of their life. How do I persuade these companies to support me – particularly British ones – because you think they are the ones who are going to back their national favourites? But the reality is – and you slowly learn – that you've got to look more internationally because it's really hard to find and persuade British sponsors to support Britain trying to rule the waves again. Or you have to prove your talent to teams that are already established – and that's how all of us from the Academy have got to the startline now. We are all associated with established teams and with other skippers and we are kind of hoping for own break in it really…"
Hare joked that it's time for British sailors to "grab British sponsors by the shoulders and give them a good shake and tell them they're missing out." It's a good point because in the past Britain-based companies have supported British solo sailors, not least MacArthur who was sponsored by the Kingfisher Group and Golding who enjoyed the support of Group 4. And with a strong British presence at the top end of the IMOCA fleet, the commercial opportunity to get on board with competitive racers is there for the taking.
While the current focus is the two-handed season, most of the Brits in the Class are dreaming of a Vendée Globe with Goodchild, Davies and Hare likely to be on the solo round-the-world race startline next year. But another thought is occurring to these men and women: could they be the talent pool for a British entry in the next Ocean Race? Both Harris and Roberts are fully up for that.
"There is no reason why a sponsor can't come in now, build a boat next year, launch in 2025 and go into a full Ocean Race campaign and the Vendée Globe in 2028 – that would be the objective…" Alan said.