B&G® has announced its partnership with professional sailor Pip Hare.
Racing on board a foiling IMOCA, she will be pushing herself and the kit on board to its limits, having just completed the Vendée Arctique, and now with her sights set on the Route de Rhum, and other UK renowned events such as Cowes week and the Round Britain and Island.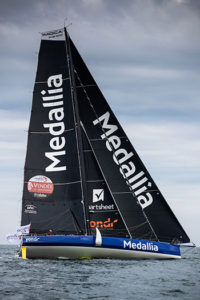 Medallia,  an IMOCA, 60 has recently undergone a refit to ensure she is well equipped for Pip's extensive race schedule. Kitted out with the latest electronics for racing, the boat has two Zeus3 S displays. With unique sailing features built-in it makes it simple to navigate, plot routes, add waypoints and view key sailing or racing data at the touch of a button or screen. The high performance processor allows you to run charts, radar, ForwardScan and autopilot controls without compromising on performance.
Medallia also has two Nemesis™ displays, one in the navigation station and one on the mast, this intelligent sailing display offers unparalleled visibility from all angles and distances on board, and with complete data customisation or a choice of easy to use multi-function templates and automatic dashboards based on your point of sail. The Nemesis display allows you to define what data you see, when and how you see it, no matter what the conditions, providing an intuitive link between your trusted instrument network and the real world.
Pip said: "Success in a race like the Vendée globe comes from performance and reliability, not just from the sailor but from the boat and all systems on board. I am delighted to be partnered with B&G for this Vendée Globe campaign as a brand that has performance and reliability at the heart of everything they do. My pilots drive my IMOCA through the toughest of conditions allowing me to rest, work and manage the boat. My instruments provide me with accurate data enabling me to make the right choices for both speed and risk management."