MDL Marinas has announced that global marine electric charging specialist Aqua superPower has joined the growing line-up of eco exhibitors at its Green Tech Boat Show, which is returning to MDL's Queen Anne's Battery Marina 16 – 18 June.
Following its attendance at last year's Green Tech Boat Show, Aqua superPower partnered with MDL Marinas to install electric boat chargers at five of MDL's marinas.
Returning for the 2022 edition of the show dedicated to highlighting the marine industry's green products and technologies, Aqua superPower will be showcasing its dockside charging infrastructure created at Plymouth Sound through the MeLL project.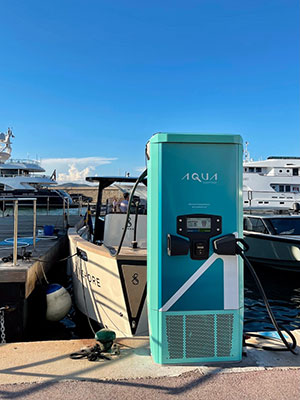 Part of the Clean Maritime Demonstration Competition (CMDC) launched in March 2021, the MeLL project is funded by the Department for Transport and delivered in partnership with Innovate UK. Aqua superPower is the technology partner for the project, which is led by fellow Green Tech Boat Show exhibitor, the University of Plymouth in partnership with Plymouth City Council.
Plymouth is set to install a network of Aqua superPower's fast chargers, delivering between 25kw to 150kw of power, for its expanding fleet of electric maritime vessels, including the UK's first marine electric passenger ferry and an electric water taxi. Aqua superPower's fully marinised chargers are particularly suitable to the commercial electric boat sector, as these boats have more frequent duty cycles and need the rapid charging Aqua provides to regain autonomy again quickly.
"Last year's Green Tech Boat Show was a high-quality event and very relevant to Aqua as we were just launching our network," says Alex Bamberg, CEO of Aqua superPower. "We consider MDL and the Green Tech Boat Show to be the best platform and educational event in this sector and as a proactive player in the market, it's important for us to participate in the show to demonstrate our marine fast charge network and its benefits.
"We're particularly interested in talking to electric boat builders, as we know the electric boat market is following the car and commercial vehicle market, and it is growing fast. To satisfy the take-up of this new technology, MDL and Plymouth are leading the way in establishing the first hub for DC high-powered charging.
"The growth of the Green Tech Boat Show to what it is this year, makes this an important forum to help drive innovation, exchange knowledge with industry peers and connect with important stakeholders."
Aqua superPower is just one of the Green Tech Boat Show's exciting selection of sustainable boating brands and marine businesses that will be presenting their products to boat owners wishing to make the switch to greener options, and prospective owners who'd like to start their boating journey in the most environmentally friendly way possible.
Tim Mayer, MDL's sales and marketing director comments: "We're delighted that Aqua superPower is returning to the Green Tech Boat Show in 2022. We're also very excited that JR Yachts' 100% electric picnic cruiser, the Classic 7, will be making its world premiere at the show, presented by Silent Yachting.
"It's shaping up to be another great show this year with many marine businesses recognising the show as an important platform to showcase their innovative, eco-friendly boating products and services."
Exhibitors confirmed so far for MDL's Green Tech Boat Show include: Aegina-Pure, Aqua superPower, The Bounty Project, ePropulsion, Finsulate UK, The Green Blue, Marine Energy Systems, Maritime UK South West, Mastervolt, Optima Electric Boats, Pixii Electric Boats, RS Electric Boats, Sail Electric, Silent Yachting, University of Plymouth, Vita Yachts and Vulcan Industries Limited.
---
Landside and on-water stand space is filling up fast. Companies interested in joining this stunning line-up and exhibiting at the Green Tech Boat Show should contact Tim Mayer via T.Mayer@mdlmarinas.co.uk
Visitor attendance to the show is free. Tickets can be booked via the Green Tech Boat Show page at www.mdlmarinas.co.uk/gtbs
For more information on MDL's boat shows visit: https://www.mdlmarinas.co.uk/boat-shows/