America's Cup boats often fly above water and on Tuesday Alinghi Red Bull Racing and Luna Rossa Prada Pirelli Team put on a true "air show" off the coast of Vilanova i La Geltrú, Catalonia, where the team's AC40s engaged in a series of fly-bys with the Edge 540 plane of Italian pilot Dario Costa in a stunning aerial spectacle that took place at the intersection of sea and sky.
As the hulls lifted out of the water with their wing-like hydrofoils, Costa navigated a series of tricky and eye-opening manoeuvres to fly between the two racing boats for an aerobatic display unlike anything seen before. During the daring spectacle, the 41-year-old stunt pilot and professional air racer from Italy hit speeds of over 200 knots (320 km/h) in his aircraft, while the AC40s criss-crossed his path with impressive on-water speeds of their own.
At the rudders for the one-of-a-kind sea-air flying session were helmsmen Nicolas Charbonnier of Alinghi Red Bull Racing and skipper Jimmy Spithill on the Italian boat as Costa flew circles and aerobatics around the two race boats.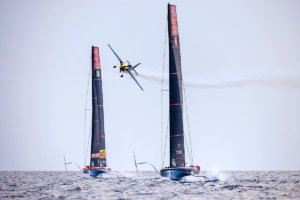 "We had the chance to have a fly-by with Dario Costa, and it was amazing to see his crazy fast airplane," said Charbonnier. "He was going around 200 knots while we were going 30 so we were putting all our confidence in him, but he did a great job. He's just amazing."
As a sailing fan himself, Costa put in several months of planning for this special exhibition in advance of the regatta.
"The boats were beautiful, they are moving fast – over 30 knots," said Costa, who has a 20-year history as an aerobatic and air race pilot. "The game was changed and suddenly I had to play with moving obstacles which is something new and something very cool. The difference in the speed of course is very high. It was really nice, I loved it."
All six America's Cup entries are participating in the upcoming event with one AC40 and four crew members on the start line for each. Alinghi Red Bull Racing has been in full race mode for the past month to focus the team and boat on the first competitive event of the campaign.