With Premier Marinas' acquisition of Universal Marina completed just over a year ago it is a good time to find out what has been happening at this River Hamble marina since that time.
In the months since Universal joined the Premier family the team has been working to assess how they can enhance the marina for the future. It is a busy marina with more than 250 wet berths, a 130 capacity dry stack and full-service boatyard with a hoist to lift boats up to 75 tonnes.
The site extends to more than 26 acres of beautiful countryside along the banks of the River Hamble with mud flats, marsh and meadows all providing a rich habitat for wildlife. A neighbouring donkey sanctuary also adds to the rural feel.
Keen to protect and enhance wildlife around the marina, the team has been developing a detailed site management plan, working closely with Fareham Borough Council and other local specialists, and an audit has been completed to identify and protect many important natural assets around the site.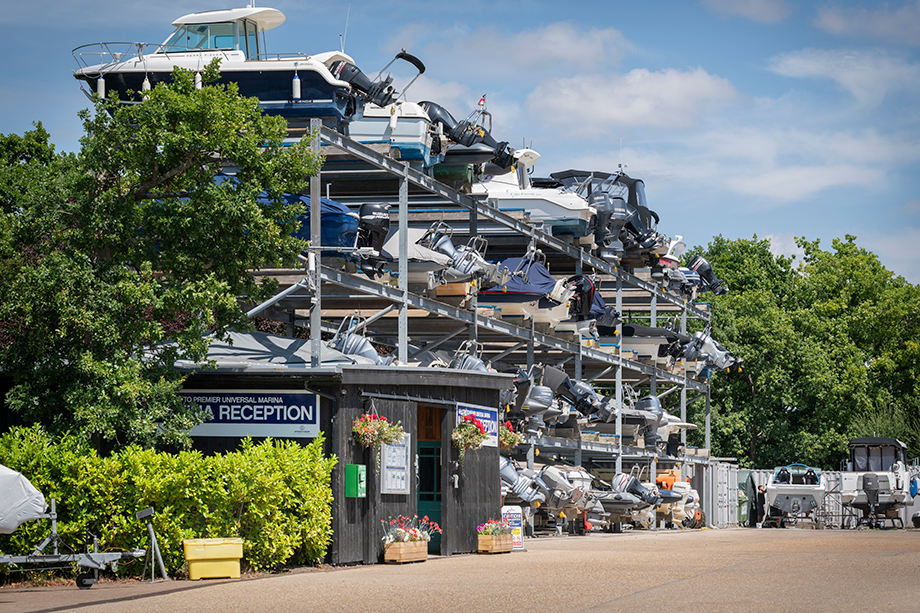 INVESTMENT IN FACILITIES
Taking on an established marina is no small task and Premier has invested well over £150k in the last 12 months in new machinery including a forklift, tractor and boat mover to assist with the seven-day operations of the boatyard and dry stack.
Work to upgrade the electricity supply is currently underway which will enable berth holders to manage their own electricity via the Premier app. The upgrade will also facilitate installation of high-speed WiFi later this summer, a key feature which was missing from the site previously.
Improved lighting and safety equipment are already in place, and the installation of solar PV panels will follow in the next couple of months, supporting Premier's group-wide drive to reduce its carbon footprint. The panels will be mounted on existing buildings within the marina and is similar to schemes already used at all other Premier sites.
New berth holder showers and facilities are also planned to ensure that these fully reflect the marina group's wider standards for the future.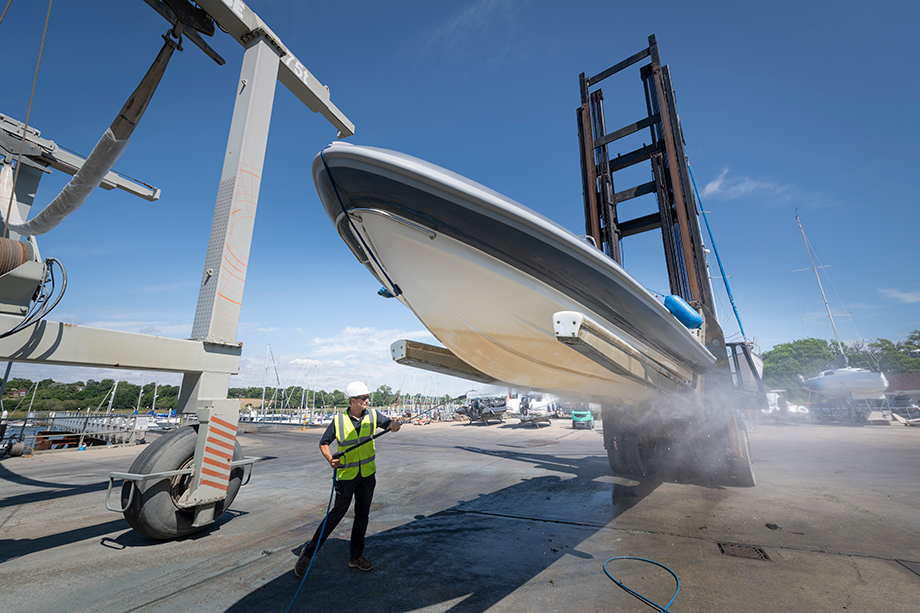 A GROWING TEAM
Most of the previous operations team members at Universal stayed on to join Premier and have now been joined by new members to support a 24/7 presence on site.
Martin Bowman and Richard Whillier have recently moved from other Premier locations as duty managers, supporting Graham Bristowe as marina manager. Graham oversees Universal alongside Premier's Swanwick Marina, just upstream.
Graham said: "I have got an amazing team at Universal and it is great that so many of the original team have chosen to stay with us. Universal is a really special place and we have taken time to understand our customers' thoughts and priorities about how we might enhance the marina. I am delighted we have been able to address some of these already, and I hope our customers can already see some of the positive changes and investments we have been making."
While some of the team came across with Premier others, like James Montgomery, were already working  at the marina. Part of the Boatyard Lifting Team James said: "Having worked at Universal for a couple of years one of the biggest concerns I had was transitioning from a small independent marina to being a part of a larger group.
"With new members of staff joining, it has been an exciting period for everyone, including for our tenants and berth holders. I have worked in the boatyard at Universal for around three years and I am pleased to see that Premier are providing more structure, increased investment and remaining customer focused.
'The marina has always had a really relaxed feel but for me the biggest attraction working at Universal is the view. The shore is lined with mature trees and there is an amazing tidal riverside path to walk along after work. I know our customers love mooring up and watching the sun go down across the river."
CRUISING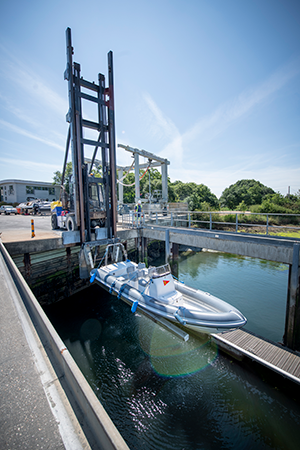 Day cruise recommendations: Universal Marina is perfectly placed just 20 minutes from the mouth of the Hamble River providing easy access to the extensive cruising grounds of The Solent. Portsmouth Harbour, Bembridge, Lymington, as well as Ryde and Osbourne Bay on the Isle of Wight, are all within easy reach.
Longer weekend trips and cruises: Dorset's Studland Bay provides a natural stop-over en-route to the West Country, and Premier's sister marinas at Noss on Dart and Falmouth can provide convenient layovers before venturing onwards to the Isles of Scilly beyond.
Heading east from Universal, Chichester Harbour offers a range of interesting destinations to explore.
Crossing the English Channel to the Channel Islands and Cherbourg in northern France is achievable in a day with favourable conditions and provides a convenient gateway to then exploring Brittany and beyond.
LOCAL ATTRACTIONS
From Universal Marina you can stroll along the riverside path in about 30 minutes to Warsash. Enjoy a drink near to the mouth of the river with views across the Solent at The Rising Sun pub, and afterwards take the 'Pink Ferry' to cross the river and explore the village of Hamble-le-Rice.
LOCAL EATERIES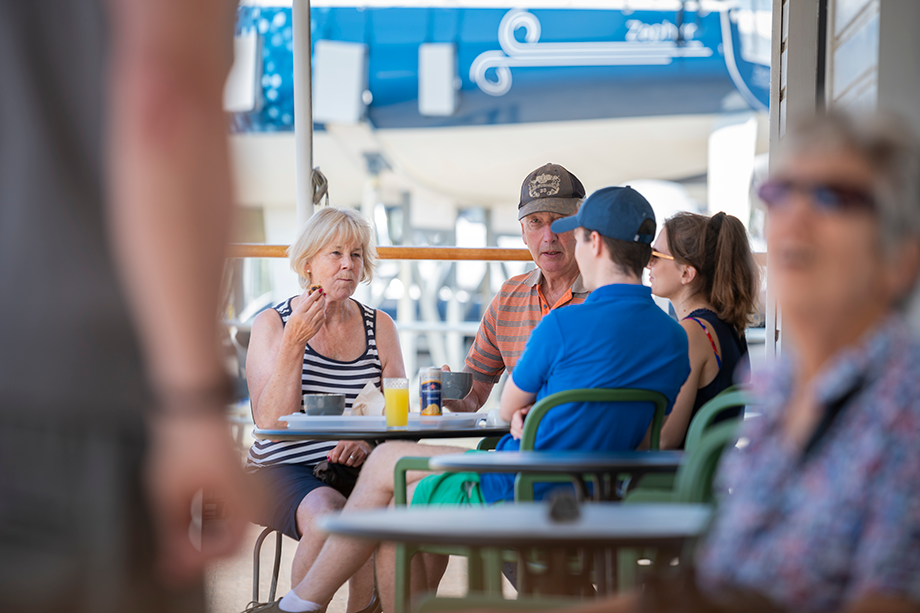 An important area Premier has applied much thought to is ensuring the marina provides high-quality food and drink. Mermaids, a much-loved local coffee shop, is now back at the marina offering a grab-and-go service with freshly baked goods and delicious savoury deli items. With indoor and outdoor seating areas it is already a popular place to relax with a coffee and cake.
The Banana Wharf restaurant, whose name is drawn from Southampton's links to the banana trade, has also opened after expanding from two other already successful nearby locations. The experienced team offer a wide menu in a beautiful garden setting overlooking the river.
Executive chef Andy Taylor Rose collaborated with Banana Wharf head chefs to create a unique and informal menu blending oriental and tropical dishes with some great local seafood, daily specials and some classics. The drinks menu also includes a range of cocktails and the now famous Banana Colada.
Banana Wharf managing director Annaliese Hughes said: "We wanted to offer a premium dining experience in a unique landscape and Universal Marina has been the perfect location for our expansion with an unrivalled waterside location."
A THRIVING HUB
Universal Marina is home to a range of marine-related tenants able to support boat owners to maintain their boats, and others that promote wider inclusion in boating such as the Discovery Sailing and Rona Sailing projects.
Rona Sailing Project is the largest volunteer-based sail training charity in the UK supported by a dedicated full-time staff of four as well as hundreds of volunteers. The team run inclusive Sail Training Voyages for a diverse mix of young people aged 14 to 25-years-old including those with learning disabilities, mental health issues, in treatment or recovery from substance misuse, as well as those living with chronic conditions.
Rona operates three ocean-going training vessels, Merrilyn, Rona II and Donald Searle, as well as a volunteer training vessel, Lady Shona, all from Universal Marina. Every year the team takes almost 2,000 people to sea on voyages ranging from one day to two weeks. The young trainees come from all abilities, backgrounds and circumstances with bursaries on offer to those who need some financial support.
Moving forward Premier is particularly keen to encourage businesses focused on green marine technologies to locate at the site. Already Rad Propulsion and Vita Power have taken up residence to manufacture and distribute electric marine propulsion units and drivetrains.
Testimonial
"We have a Highfield 760 sport RIB that is kept in the dry stack at Universal. The team there really have the time for you, nothing is ever any trouble. In the past we have had cruisers such as a Sealine 33 Flybridge and a Fairline Targa 34. We came to Universal in September last year and enjoy it so much. It is a lovely marina, nice and quiet – you can cruise up the river, anchor up, visit the Horse and Jockey pub – it suits our lifestyle. We are both retired and this is something we enjoy doing – it is like being a member of a small family at the marina." Jeff Wright – dry stack berth holder at Universal Marina
---
MORE INFORMATION
Premier Universal Marina
Crableck Lane, Sarisbury Green
Southampton SO31 7ZN
Tel: 01489 574 272
Marina reception is open 7am-7pm daily
Email: universal@premiermarinas.com
Marina Manager – Graham Bristowe