Located on the east bank of the Hamble River, Universal Marina is the newest addition to the Premier family, offering an ideal base to explore the Solent.
Set in tranquil surroundings on the picturesque eastern bank of the River Hamble, Premier's Universal Marina offers 24-hour access to the world famous cruising grounds of the Solent and beyond.
Universal Marina was acquired by Premier Marinas in July 2021 and complements its existing portfolio, whilst adding to the company's already successful Hamble operation at Swanwick Marina.

Nearby, waterside villages including Bursledon, Hamble-Le-Rice and Warsash provide beautiful riverside walks and wonderful opportunities to observe wildlife. The Solent, Southampton Water and classic cruising destinations, such as Cowes and Yarmouth, are easily accessible, so whether you are looking for a day trip, like to anchor up in a secluded bay or enjoy a hearty meal at one of the countless waterside pubs, Universal Marina is the perfect base from which to explore on foot or by boat.
The marina also has a friendly virtual yacht club, which has a busy calendar of cruise in company cruises and rallies, as well as a range of social events throughout the year, such as coffee mornings.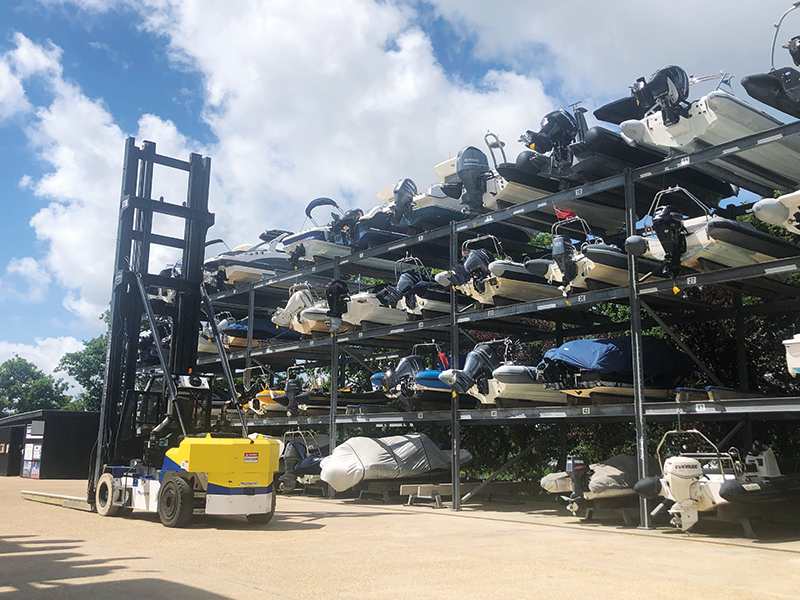 FACILITIES
The marina provides 240 wet berths and a 130 boat dry stack facility. The onshore facilities at Universal Marina include a full service boatyard, ample dedicated car parking, marina facilities and a range of tenants providing marine services and food and beverages.
With the flexibility to pay monthly or annually – Premier's annual berth holders enjoy an unrivalled package of benefits and cost savings with Premier Advantage including: 42 free visitor nights at any Premier Marina, fuel at cost, eight weeks complimentary storage ashore, free Wi-Fi, savings on boatyard services and loyalty rewards.
For owners of boats up to 10m, the dry stack berthing package offers all the convenience of a pontoon berth, but with lower maintenance costs as the boat is stored out of the water. Currently, with capacity for up to 130 boats, it is the largest dry-stack facility on the river.
Dry stack customers also enjoy a host of benefits including unlimited year-round lift, launch and recovery, fuel at cost at any Premier fuel location, free full Sea Start membership and, via the Premier mobile app, the option to pre-book your launch.
A full service boatyard with a hoist for craft up to 75 tonnes is available all year, including weekends. This is overseen by a well-trained crew of boatyard operators, some of which have worked at Universal Marina for more than 20 years.
Professional repairs can be undertaken by on-site experts who will take care of any aspect of marine repair – Universal Marina has over 30 businesses at the site providing everything from marine electronics to rigging services, sailmakers, cosmetic work, valeting and a small chandlery, Aspire, who sell boating essentials and specialise in anodes, having one of the largest selections on the market.
A number of non-marine businesses are also available including a Pilates studio and a physiotherapist.
Universal Marina benefits from extensive storage ashore and there is also a self-store facility with individual units available for berth holders and visitors.
Swanwick Marina's YouBoat chandlery, in addition to Universal Marina's own modest on-site chandlery, supplies a comprehensive range of marine equipment from top manufacturers and provides a delivery service to berth holders' boats, as well as a click and collect service via its website.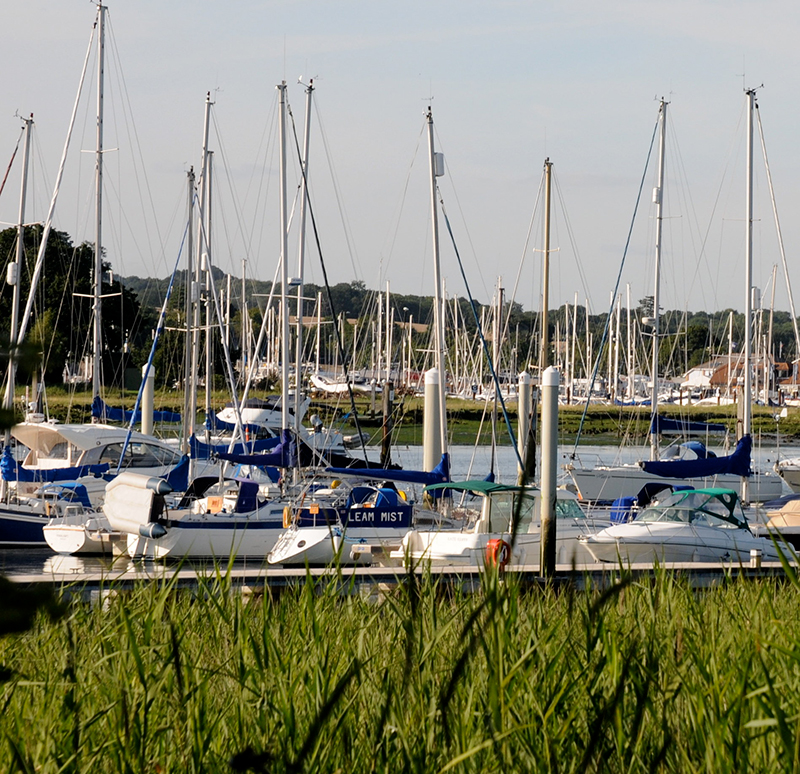 ACCESS
Premier Universal Marina is situated on the eastern bank of the River Hamble, approximately three miles upriver from the entrance to Southampton Water. The river is popular and busy and should be navigated with care – there is a strict 6 knot water speed limit and wash should be minimised by all vessels whilst within the river's harbour limits.
Waypoint – Hamble Point SCM buoy, Q(6)+LFl.15s Sector lights/ transit – Hamble Common 352º/172º Occ(2) RWG 12s Warsash 028º/208º Iso RWG 6s
All entrance piles are lit and fitted with radar reflectors. Mariners are advised to keep to the centre line or to starboard of the centre line and should be careful not to get too close to the entrance piles, especially at low water. Inbound vessels over 20m must call Hamble Harbour Radio on Ch 68 at No.1 pile.
Southampton Harbour also requires inbound vessels to call and monitor Southampton VTS (Vessel Traffic Services) on Ch 12 when passing the Nab Tower and when entering Southampton Harbour waters from the West Solent and adjoining harbours.
You can contact the Marina Reception on VHF Channel 80 or telephone 01489 574 272.
CRUISING
Boat owners are spoilt for choice, with the Isle of Wight ports close by. Cowes is only a one hour sail and home to Osbourne House, Queen Victoria's former residence and a fine example of Victorian architecture.
From Cowes you can continue to the nature reserve of Newtown Creek where, subject to your boat's draft, you can anchor up in this idyllic estuary with a small beach and an abundance of wildlife. Beaulieu River is another nature lovers' destination with a meandering river cruise up to Bucklers Hard where Lord Nelson's warships were once built.
Yarmouth, Lymington and Poole also make great destinations, with Colwell Bay boasting The Hut, a fantastic restaurant on the beach that sends a RIB to collect you and will drop you back to your boat.
If you wish to extend your trip you can continue along the coast to Lulworth Cove and Durdle Door and Weymouth in Dorset, and further west there is Premier's Noss on Dart Marina, on the sunny eastern bank of the River Dart. If you prefer to head east, Premier's Chichester and Brighton marinas make great stopovers. Premier's annual berth holders can use their 42 complimentary visitor nights.
For international trips, The Channel Islands and France, including Barfleur, St-Vaast and Honfleur, make pretty destinations.
LOCAL EATERIES
Premier Universal Marina has an on-site café, A&A Café, offering a simple daytime menu with a takeaway service. Plus, a restaurant serving Anglo-Mediterranean cuisine is coming soon!
For those who want to stretch their legs, the public path heading south along the river takes you to the Rising Sun in Warsash. More than 200-years-old, with an upstairs section with views out over the river, it is the perfect spot to relax with a drink.
Closer to home the Old Ship, a 16th century pub in lower Swanwick, is steeped in history and offers classic British favourites.
THINGS TO DO
Set in a rural location, surrounded by woods and salt marsh, it has a lovely sense of arrival as it is approached by a narrow road that winds through the woods. The marina is surrounded by lush foliage and prolific wildlife, as well as a variety of attractive waterside walks.
A 10-minute walk along the foreshore will take you to Swanwick Marina (be aware of the high spring tides) or in the opposite direction you can head to the village of Warsash, passing Wendleholme Nature Reserve, with views across the water to Hamble-le-Rice.
---
RECOMMENDATIONS
"We started boating around 10 years ago on the Thames. We had a lovely summer there, but quickly got tired of the 5 knot limit, so headed down to the coast. We tried a few marinas around the Solent during our first two years down here, but since finding a spot at Universal, we have stayed put. The marina is easy to get to from our home in Oxfordshire, and it is a great base for exploring everything the Solent has to offer. It is also a very peaceful location, with fantastic local walks and good pubs nearby, along with calm waters for the kids to practise their paddle-boarding skills. We are hoping to get to Dorset this summer to make the most of the anchorages around Poole and Studland, but we will also spend time at Universal, messing about on the river with the children and taking the dogs for runs along the riverbank."
Kim Allcott, Fairline Targa 50
Universal Marina
Crableck Lane,
Sarisbury Green,
Southampton SO31 7ZN
01489 574 272
---
MORE INFORMATION
www.premiermarinas.com
www.aspirechandlery.com
www.greeneking-pubs.co.uk/pubs/hampshire/rising-sun
www.oldshipswanwick.co.uk
www.astorsonthehamble.com
www.UMYC.co.uk