Port Hamble Marina is located on the River Hamble, right in the heart of the South Coast's sailing scene.
With thousands of visitors every year, this busy five gold anchor marina is popular with racing enthusiasts and cruising vessels looking for an exciting atmosphere. Plus, the picturesque Hamble Village, with its inviting pubs and restaurants, is only a few minutes' walk away.
FACILITIES & BERTHING
Port Hamble Marina has 310 berths with the maximum LOA of 24m, and the marina has on-site refuelling facilities, with the easily accessible fuel berth selling both petrol and diesel seven days a week. All berths at the marina are supplied with power and water and have walk ashore access.

In addition, there is a chandlery, laundry, yacht brokerage, bar and restaurant facilities, WiFi and electric vehicle charging (Universal Type 2). The chandlery, Force 4 Chandlery, is open seven days a week in the season, and stocks clothing, electronics, books and boat parts among many other items.
Lifting facilities up to 75-tonnes and extensive boat yard services are available at neighbouring Hamble Point Marina, just a short trip down river.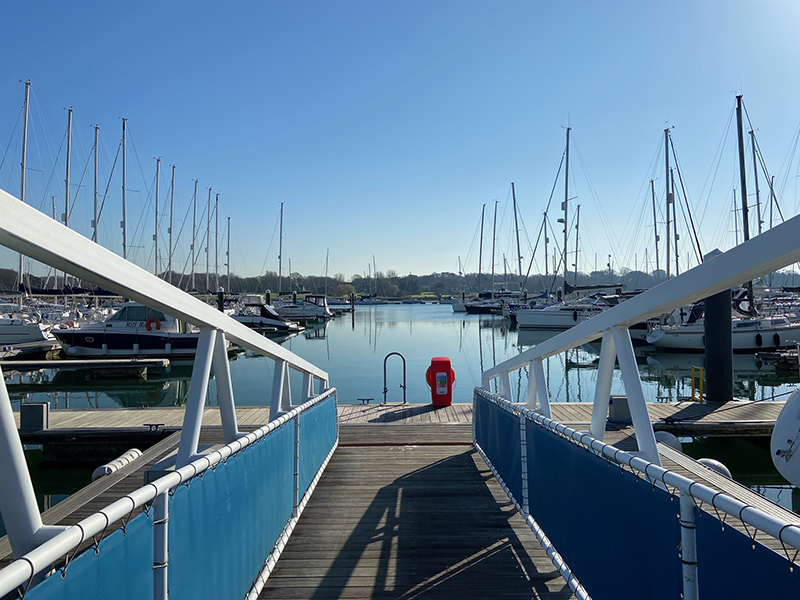 ACCESS
Keep a look out for, and keep clear of, any commercial shipping in Southampton Water. From abeam Calshot Castle head for Hamble Pt South Cardinal buoy at the mouth of the well-marked river. From here the channel is narrow between drying banks, so be sure to leave the No 2 East Cardinal beacon to port.
At night two directional lights lead to Warsash Jetty on the east bank. Port Hamble Marina is about 0·75 miles north, the second marina on the west bank. It is essential to call on VHF Ch 80 or by mobile to
request a vacant berth if visiting Port Hamble Marina.
It is also always best to review tidal conditions or ask the marina team for advice before coming into the marina, to assist in planning your arrival on to the berth.
By road, from the M3 take the M27 eastbound for Portsmouth. Exit Junction 8 of the M27 for Southampton East/Hamble. Follow signs for Hamble on B3397, Hamble Lane. After approximately three miles you will arrive in Hamble Village; bear left into Satchell Lane. The entrance to the marina is about 50m along on the right.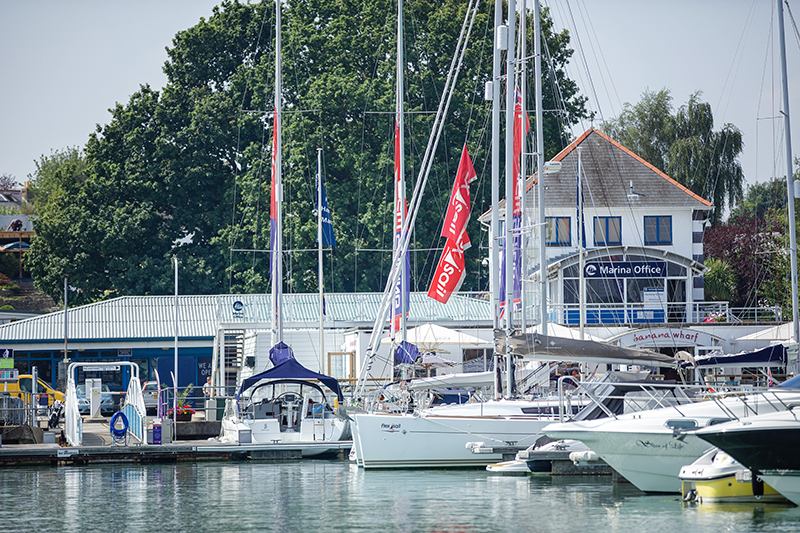 CRUISING
Day sailors can cruise to the Isle of Wight, or head east and explore Portsmouth or the sheltered waters of Chichester Harbour. To the west lies the historic town of Lymington and Buckler's Hard on the Beaulieu River.
MDL has nine marinas on the Solent to explore. Visit superyacht haven Ocean Village with its luxurious hotel, bars and restaurants, or the family oriented Hayling Island marinas such as Northney or Sparkes. Plus, also on the Hamble River, Hamble Point Marina and Mercury Yacht Harbour offer a different view of the bustling river.
Poole is only a day's sail (stay at Cobbs Quay), and if you are feeling more adventurous, you can cruise to the West Country and enjoy some spectacular sailing along the Cornish Coast. Port Hamble Marina is also a great starting point for any cross-channel voyage.
For the competitive sailor, the Solent probably offers the widest choice of racing in the UK, with fixtures throughout the summer and winter months. All these features combine to make Port Hamble one of the most popular marinas on the South Coast and an obvious choice for racing enthusiasts.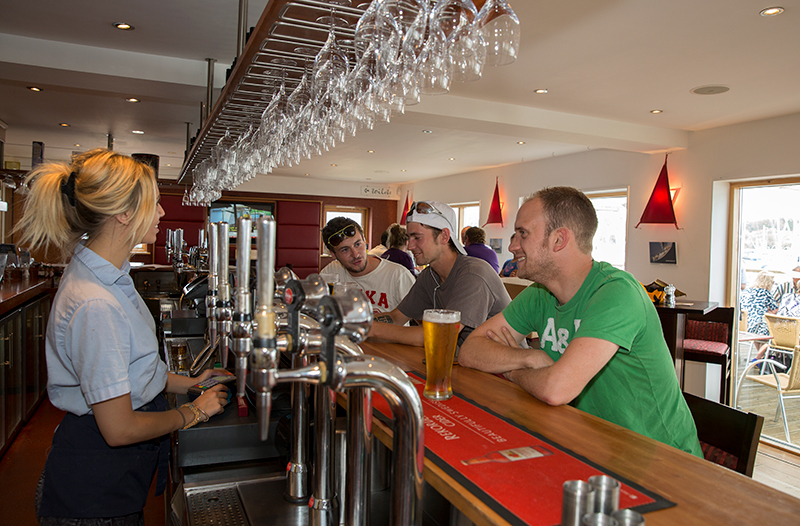 LOCAL EATERIES
Located in the marina, Banana Wharf (bananawharf.co.uk/hamble) is a vibrant bar and restaurant offering the perfect spot to meet, eat and drink. With a large heated and covered terrace area for dining, it has unobstructed views of the River Hamble.
The King and Queen, known by the yachting community as 'The Rum Pub', provides good hearty meals with friendly table service. The indoor seating is cosy, relaxed and characterful, with candles and real fires. The outdoor seating is in a beautiful, sheltered courtyard setting.
Jenny's Café (jennys-cafe.com) is a family run cafe on the High Street in Hamble. It is home to delicious sandwiches, soups, cakes, coffees, sausage rolls and many other goodies. You can also try Jenny's by the Boats, located in the adjacent boat yard at HYS, for a coffee on the go or breakfast bap.
Within walking distance of the marina there is a well-stocked Co-op supermarket, which will allow you to replenish your ship stores or provide for the perfect meal and favourite tipple aboard. There is also a large Tesco a 10-minute drive from Hamble.
THINGS TO DO
Wine lovers can visit Hambledon Vineyard (www.Hambledonvineyard.co.uk), an award-winning English wine producer, offering tours, tasting and 'Dine in the Vines' experiences.
There are many walking routes to enjoy around the marina. Amble along the lanes of the historic Hamble Village, through the 'Hamble common and copse' and along the coastal path, taking in views of Southampton water and the busy commercial shipping fleets entering Southampton International Port. (www.walkandcycle.co.uk/trail?trailcode=HAMPTR0019)
If you need to get around, Viking Cars offers a friendly 24 hour local service, with airport and rail transfers.
(02380 406 633 / www.vikingcars.co.uk)
---
PERSONAL RECOMMENDATIONS
"Port Hamble Marina offers a great overall package. Firstly, the marina staff are so friendly and terribly helpful. Secondly, the facilities (toilets and showers) are really very good and last but not least – the other berth holders all seem equally as friendly and helpful as the staff! It is also very conveniently located. I am currently doing a lot of day sailing with my crew as we prepare for the ARC (Atlantic Rally for Cruisers) in November. My crew are quite spread out across the UK and it is really easy for them to get there."
Jerry Norton, 66, Beneteau Oceanis 51.1
"As a family with two young children having our boat at Port Hamble Marina is the perfect choice, ideally located on the beautiful Hamble River, just a five minute walk to town for restaurants and shops. We use our boat all year round and with access to so many great destinations on the Solent and local rivers we are never stuck for places to explore and visit. At Port Hamble our home marina, and at other MDL marinas we have visited, the staff are always friendly and helpful and you get a real feeling of community. Highly recommended."
Justin Morley, Port Hamble berth holder
---
Bertie Marsh
Marina Manager
023 8045 2741
porthamble@mdlmarinas.co.uk
www.porthamblemarina.co.uk
The postcode for your Sat Nav is SO31 4QD
Lat: 50°51.62'N | Long: 1°18.74'W