This month we head to the beautiful county of Devon and Premier Marina's impressive Noss on Dart Marina.
Set on the sunny eastern bank of the River Dart, in a secluded area of outstanding natural beauty and just minutes from Dartmouth, Noss on Dart Marina offers easy access to some of the most beautiful anchorages and ports in Devon. With amazing woodland walks along the Dart Valley Trail, an array of wildlife and a busy calendar of local festivals and regattas there is also a huge amount on offer on land.
This 37-acre site has a rich history of shipbuilding, dating back to the 1880s. It is best known for manufacturing Trinity Light vessels and minesweepers, as well as Chay Blyth's British Steel round-the-world yacht, which was launched there in the 1970s.

Premier Marinas acquired the site in 2016 with a vision to make it the UK's finest marina and a destination in its own right, bringing visitors, employment and investment opportunities to the area. Continuing to successfully implement its £75 million redevelopment vision, the new floating marina, boatyard and the first of two commercial buildings has been built.
This phase is on track to create a thriving commercial community with marine engineers, sailmakers, electricians and boat sales as part of the blend of services on offer. South Devon Marine Academy have also moved into its new premises, dedicated to training future generations to join the maritime sector with new and emerging technologies.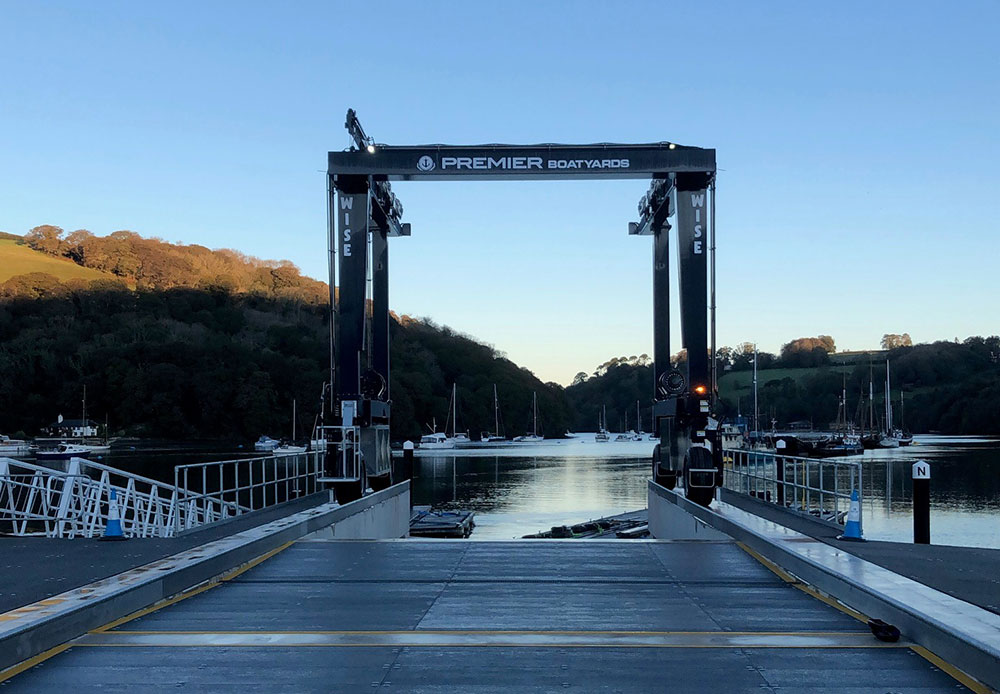 FACILITIES & BERTHING
Premier's £3.5m new floating marina offers 232 fully-serviced berths for vessels from 9 to 25m. Each berth is built for single occupancy and the pontoons offered measure at least the length of the owner's boat. Noss also offers a dedicated pontoon for visiting boats, along with a ferry berth.
The brand new full-service boatyard facility includes a hoist dock and a new 75 tonne hoist for boat lifts, the largest on the river, with deep water access.
New boat storage areas support the yard's activities by providing hard standing for up to 100 boats and a self-store facility provides boat-kit storage for berth holders and visitors. In spring 2022 it will also be home to a 120 berth dry stack facility.
The onshore facilities at Noss on Dart include a 195 space decked car park (for visitors and berth holders) as well as a variety of marine service tenants, including Stephenson Marine, which provides engineering services and offers a wide range of marine repairs, including inboard and outboard engines, props, plumbing and heating, electrical problems and antifouling.
With the flexibility to pay monthly or annually – Premier's annual berth holders enjoy a package of benefits and cost savings with Premier Advantage including: 42 free visitor nights at any of Premier's 10 South Coast marinas, fuel at cost, eight weeks complimentary storage ashore, free Wi-Fi, savings on boatyard services and loyalty rewards.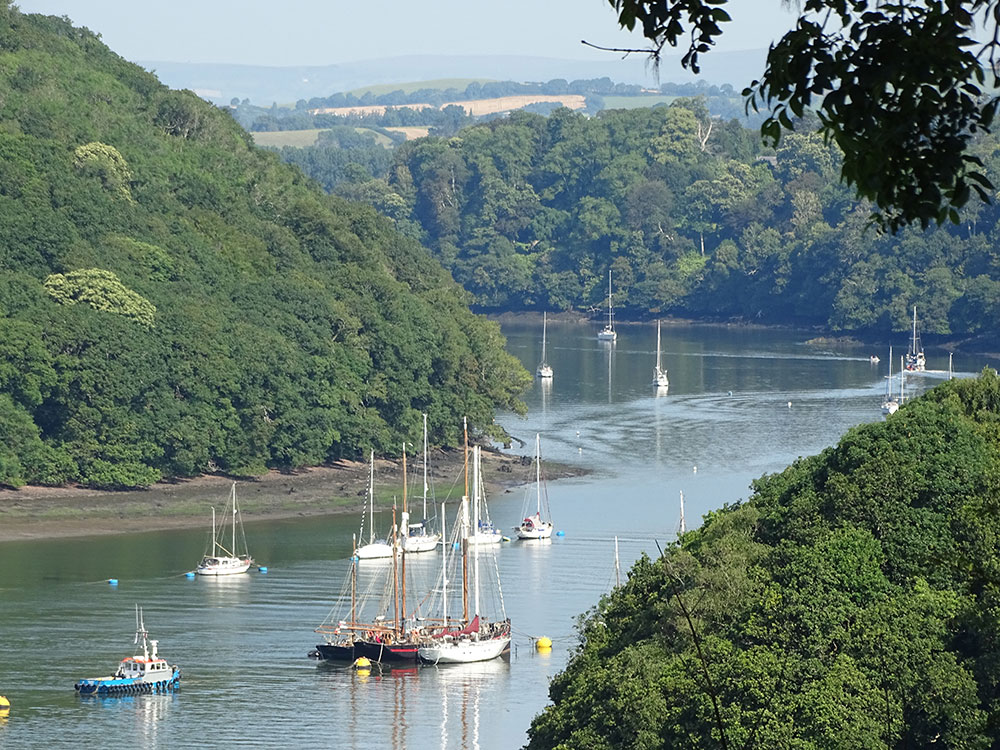 ACCESS
Premier Noss on Dart is situated on the eastern bank of the River Dart above the Dartmouth Higher Ferry, approximately two miles upriver of the harbour entrance.
The river is managed by the Dart Harbour and Navigation Authority. It is popular and busy and should be navigated with care – there is a strict 6 knot through the water speed limit and wash should be minimised by all vessels whilst within the river's harbour limits, which extend just seaward of the Castle Ledge starboard hand light buoy, ¾ mile SE of Kingswear Castle to Totnes Weir.
Whilst secluded, Noss on Dart Marina is within easy reach of the town either by water taxi (summer season only), dinghy or foot and ferry.
For navigational information refer to the latest Admiralty Chart 2253 or the Dart Harbour website. Harbour dues are payable in addition to berthing charges for all visiting vessels. All power-driven vessels are to exhibit navigation lights appropriate for their length and, as a minimum, at least one all-round white light when under way at night.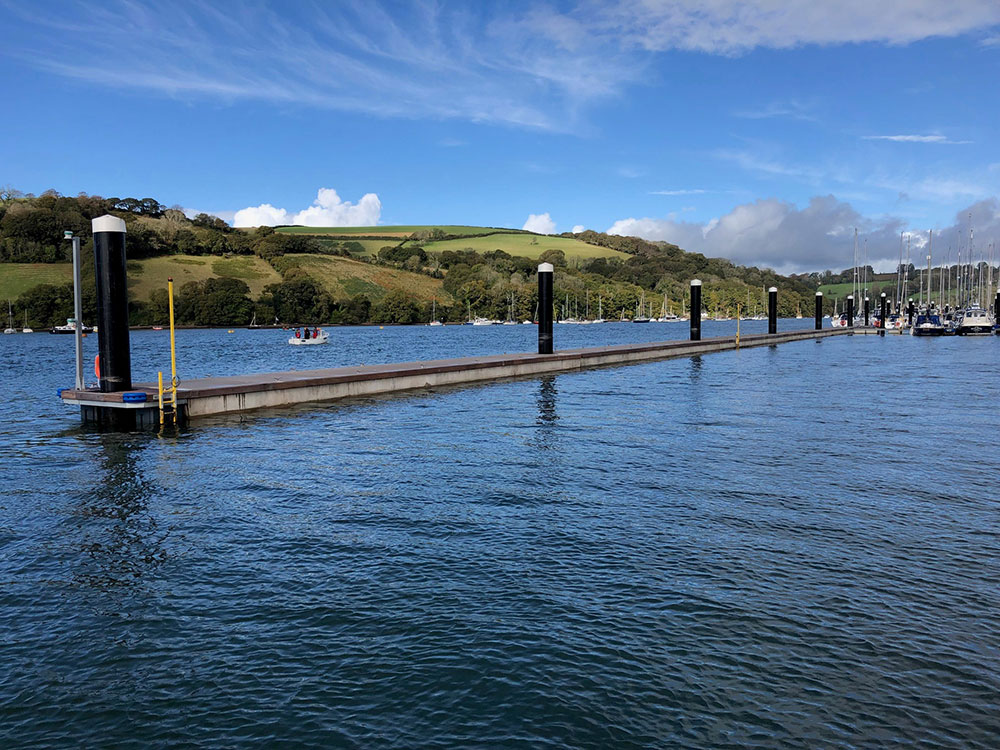 CRUISING
The West Country is packed with enticing boating spots and hidden gems – whether you choose to head east or west from Noss on Dart you are guaranteed a scenic adventure.
The beautiful coastal town of Salcombe is just a day's sail (approximately 20 miles) and is renowned for its outstanding views, pretty coves and sandy beaches. If you are heading east to the Torbay region of South Devon, commonly referred to as 'The English Riviera', you can stop off at the delightful towns of Torquay, Paignton and Brixham.
Brixham Harbour is home to one of the largest fishing fleets in the UK and nearby Berry Head, the UK's shortest lighthouse, stands 5m high, but with an elevation of 58m from the clifftop.
Sailing up the River Dart, you will also pass several beautiful creeks, villages and towns, including Dittisham and Totnes; be sure to stop by Sharpham Estate, which produces the wonderful Sharpham cheese and wine range.
If you wish to extend your trip you can continue along the coast to Cellar Bay (6 miles SE from Plymouth) tucked just inside the mouth of the River Yealm. It is a peaceful anchorage and an ideal spot for a picnic with its sheltered and secluded sandy beach. On a rising tide, follow a stop here with a meander up the creek to the pretty fishing village of Noss Mayo, where you can tie up alongside the Ship Inn and enjoy a drink in this tranquil hideaway.
Further afield Fowey, with its impressive harbour, welcomes visiting boats and is a fun place to explore with its windy streets and alleys lined with independent shops, pubs and bistros near Albert Quay landing.
Premier's Falmouth Marina also makes a great stop-over with its on-site UpperDeck restaurant and where Premier's annual berth holders can use their 42 complimentary visitor nights.
LOCAL EATERIES
In the future Noss on Dart will have an on-site restaurant as part of the boutique hotel, spa complex, which will commence construction next year.
For now, though, there are a few eateries in Kingswear for those that want to stretch their legs.
Moor at 13 is a small independent café overlooking the River Dart, renowned for its coffee and baked goods. For a hearty meal the family-run Ship Inn serves British classics, while the Steam Packet Inn specialises in artisan pizzas.
THINGS TO DO
Nearby attractions include National Trust's Greenway, holiday home of the famous and much-loved author Agatha Christie and her family and also English Heritage's Dartmouth Castle with its breath-taking views across the Dart Estuary. The beauty of the River Dart can also be experienced on a river cruise, by taking the steam train along the coast, or by kayak or paddleboard.
---
FURTHER INFORMATION
www.premiermarinas.com
www.nossmarina.co.uk
moorat13.business.site
www.theshipinnkingswear.co.uk
steampacketinnkingswear.co.uk
---
RECOMMENDATION
"When we decided to move our beautiful boat to Dartmouth we spent some time viewing our options and meeting as many marina people at each location. It is more than fair to say that we chose Noss on Dart for a few reasons. Firstly the marina team were so informative and helpful that we immediately felt like part of a family. When we committed to Noss the pontoons were not even built, but we were continuously updated on progress. Andy and Gill in the office are great points of reference and are always willing to help.
Having stayed at other marinas, in our experience Premier are best of breed in the marina world – it is a pleasure to be here! A favourite local destination  is Salcombe as we like the local fishmongers and it is easy in and out. Falmouth is another favourite as we get a lot of shelter from the wind, and a trip around to Brixham is always good fun. Next year we plan to visit the Channel Islands and south of France." 
Sealine SC 47, Stephen Jones
---
MORE INFORMATION
Premier Noss on Dart
Bridge Road, Kingswear,
Dartmouth TQ6 0EA
Marina Reception: VHF Channel 80 / 01803 839. 087