This month we head to Neyland Yacht Haven, which is situated within the UK's only coastal national park.
Enjoying an unrivalled location within the spectacular Pembrokeshire Coast National Park, Neyland Yacht Haven is the only marina in west Wales to offer full-tidal access for resident and visiting boats.
Neyland benefits from a stunning location in the Westfield Pill area of the Milford Haven waterway. The tree-lined creek provides a well-protected sanctuary for boaters with a wide range of facilities ashore to suit all types of boaters.
Part of the award-winning Yacht Havens Group, Neyland offers all the charm, warmth and personal service of a family-owned marina whilst delivering a wealth of valuable services.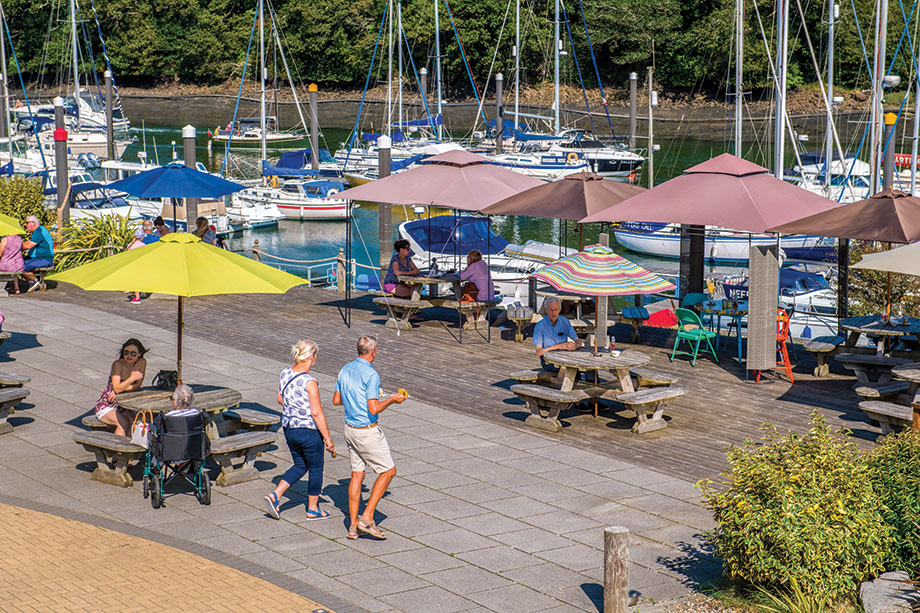 FACILITIES
The 420-berth marina is split across two basins with berths for boats from 6m to 20m LOA. The Lower Basin provides full-tide access berthing for residents and visitors whereas the Upper Basin, accessed over a Tidal Cill, offers a peaceful setting and a more economical berthing option.
In terms of facilities, Neyland ticks the boxes when it comes to the pre-requisites to be a modern day marina including 24-hour access to modern washrooms, free Wi-Fi, a café and restaurant on-site, as well as boatyard facilities, chandlery and fuel from the neighbouring Dale Sale.
The Milford Waterway offers a well-protected playground for shallow drafted vessels to enjoy. The creeks, rivers and land masses ensure there is an abundance of quiet, calm waters to explore, whatever the wind direction. The waterway has become an extremely popular place for trailer sailors and boats under 6m who are able to sail in relative safety. Neyland Yacht Haven has therefore created specific berths for small boats such as Merry Fishers, RIBs, Quicksilver boats, Orkneys, Fletchers and other similar day boats. Annual berthing for boats under 6m starts from just £1,000.
The Haven Pods are two unique floating accommodation cabins located in the beautiful Upper Basin within the Yacht Haven. Sleeping two adults and two children, the Haven Pods are made from ethically-sourced wood and are full of eco-friendly features that provide a unique holiday location, all-year round. The self-catered units are finished with a kitchenette and a floating terrace that will make you think you are walking on water.
420 berths fully serviced with power and water
Large, dedicated visitor berthing pontoon, with full-tide access
Ample, free berth holder and visitor car parking
Free Wi-Fi throughout marina
Toilets, shower and laundry facilities
Marina office open seven days a week, throughout the year
24-hour security
Fuel pontoon offering diesel and petrol at the entrance to the marina, operated by Dale Sailing
The Haven Pod accommodation
Café, Bar & Restaurant on-site as well as sailing schools and fishing charter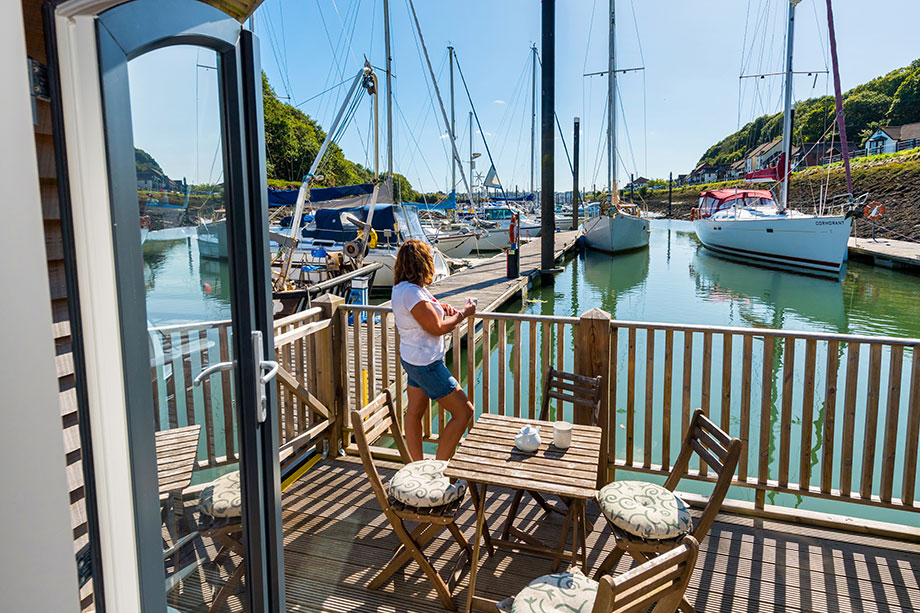 ACCESS
The entrance into the Milford Haven is very straightforward, but during periods of heavy weather, they advise you to give the ebb at St Anne's Head a wide berth. Two main channels lead you eastwards into the waterway towards Neyland, passing Milford Haven town.
After passing the Weir Spit port hand post and north of the Pennar Gut, head north-easterly to Pembroke Reach and follow the channel, marked with port and starboard posts. Leave Neyland Spit port hand buoy (Fl(2) R10s) to port and head for the Cleddau Bridge (aim between the 2FR vert and 2FG lights), until Westfield Pill.
Approach the marina from the south-east giving the westerly bank a wide berth. The final approach is marked by channel buoys and the Haven Team listen on Channel 37 and 80 to provide mooring and/or further instructions.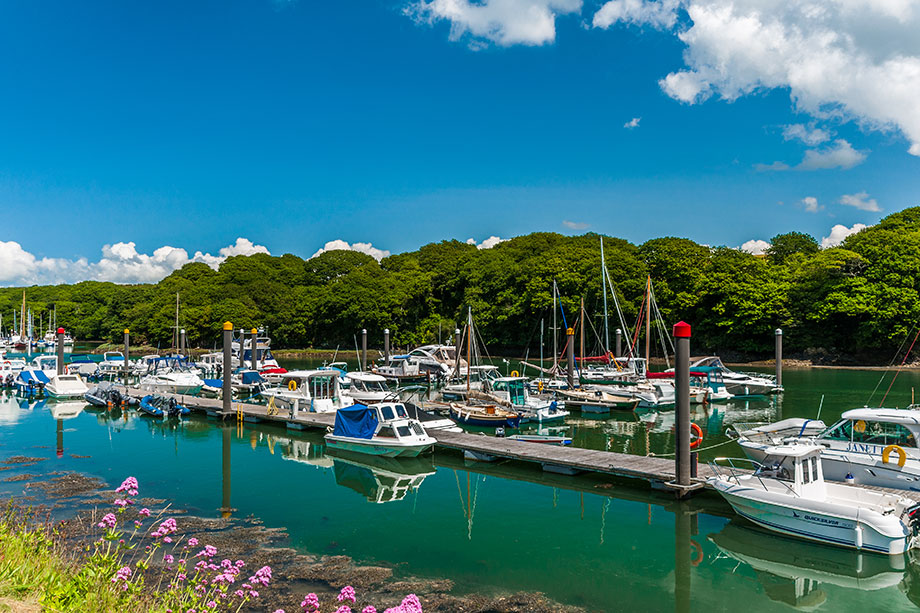 CRUISING
When your sea legs are crying out for dry land, the area surrounding Neyland offers a wealth of attractions, places of interest, shopping and plenty of activities to keep you entertained all day long.
The popular Brunel Trails runs from the marina to Haverfordwest taking you on scenic, off-road paths through the Pembrokeshire Coastal National Park. This trail, and several others close-by, are perfect for exploring on foot, or on bikes which are available to hire from the Marina Office.
Families are spoilt for choice with activities for hot sunny days as well as wetter days. Folly Farm Adventure Park & Zoo and Oakwood Theme Park are both short drives away. In Milford Haven town centre you will find a cinema and a large leisure centre with a 25m swimming pool and tennis courts.
However, you cannot visit Pembrokeshire without visiting one of their golden sand beaches; Dale and Broadhaven beaches being Neyland's particular favourites.
RECOMMENDATION
"I moved my Moody Eclipse 33 Rapport to Neyland in 2009. It is beautiful, safe and secure, with good local facilities and excellent staff. There is a good café and the food at The Bar is outstanding. As Neyland is half-way up the Haven, it is nearly always possible to go out sailing, with sheltered waters upstream, open water downstream or right out into the Celtic Sea. The Haven is never crowded, and staying out of the way of the tankers and ferry to Ireland is not a problem." Paul Cleaver, berth holder
---
MORE INFORMATION
Neyland Yacht Haven
Brunel Quay, Neyland
Pembrokeshire, SA73 1PY
Tel: 01646 601 601
www.yachthavens.com
Neyland@yachthavens.com
www.facebook.com/NeylandYachtHaven
www.twitter.com/yachthavenney
www.instagram.com/yacht_havens