Built in 1993, Haslar Marina is ​tucked away just inside the southwest corner of Portsmouth Harbour.
The marina is perfectly located for Solent sailing, providing a safe and sheltered location which is freely accessible at all states of tide, as well as the opportunity to visit the historic dockyard and enjoying outlet shopping. Adding panoramic beaches, an impressive naval heritage, plenty of watersports and historic trails means there is a lot to keep the family entertained.
FACILITIES
Haslar's facilities include laundry room​s, luxurious washrooms and toilets, first-class boatcare service, boatyard – new ​from July 2021 – marine services, boat sales, free car parking and two on-site restaurants including Trinity's at the Lightship.

The 650-berth marina caters for lengths from jet skis up to 40m superyacht berthing. The pontoons are modern, purpose built walk ashore berths, with a generous layout providing ample manoeuvring space and access at all states of the tide.
Haslar's team of shipwrights, engineers and finishers provide a one-stop shop for all boat repair and maintenance tasks from showers and keel maintenance, to rigging and thrusters. The team can visit your boat in the marina for work including engine servicing, winch and windlass replacement, gel and GRP repairs, interior finishing and deck hardware. Help is on hand for onboard tasks large and small, right through to a full refit.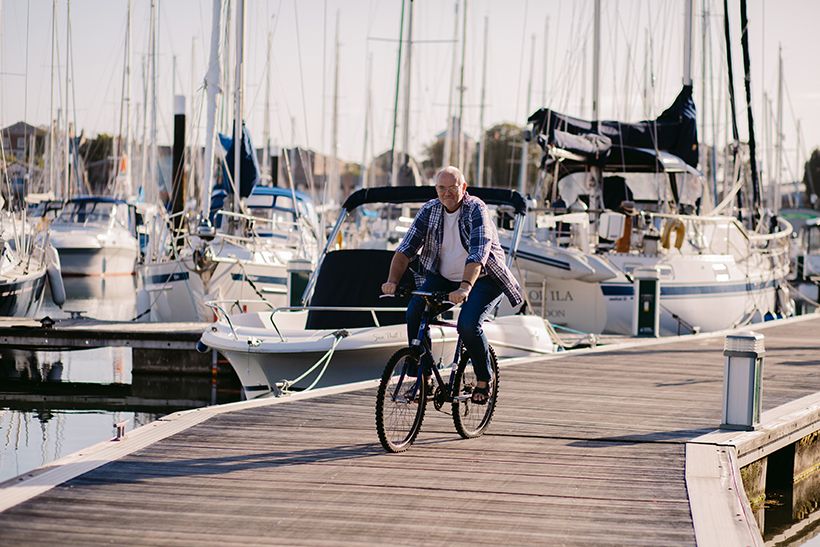 Whether you are looking to buy or sell your boat, the team can help you find your perfect match through boatfolk's dedicated boat sales business, boatpoint Portsmouth, in partnership with Network Yacht Brokers.
As part of the boatcare service at Haslar Marina, there are storage ashore options as well as lift and launch services for motorboats (up to 10m) at the powerboat centre.
There is a specialist powerboat yard based at Haslar with room for storage ashore and slipway launch and recovery – great for RIBs and trailer powerboats.
Larger motorboats and sailboats can be ​lifted on Sealift afloat within the marina or accommodated ashore at Deacons Boatyard and Portland Marina, where more complex work like keel removal and Coppercoat application is taken care of.
Other facilities include:
Fuel – petrol and diesel are available from a fuel berth just the other side of the Gosport Ferry;
There is a Berth Holder only Pump Out boat – creating a hassle-free solution for customers. Each pump out charged at £5, with every penny going to Coastline Deadline;
Marine services on-site including XW Rigging and Ocean Electronics;
Adventure sailing with Rubicon 3;
Local RIB charters available
Boat repairs from polishing and valeting
Andrew Simpson Yachting – a new Training Centre of excellence for RYA training courses
CCTV and access code gates;
Free use of WiFi;
Two boat lifting options at Haslar Marina (both run by boatcare); Sealift – up to 18m, 50 tonnes, and 3m draft
Boatyard – up to 10m / 10 tonnes
Water and electricity (metered).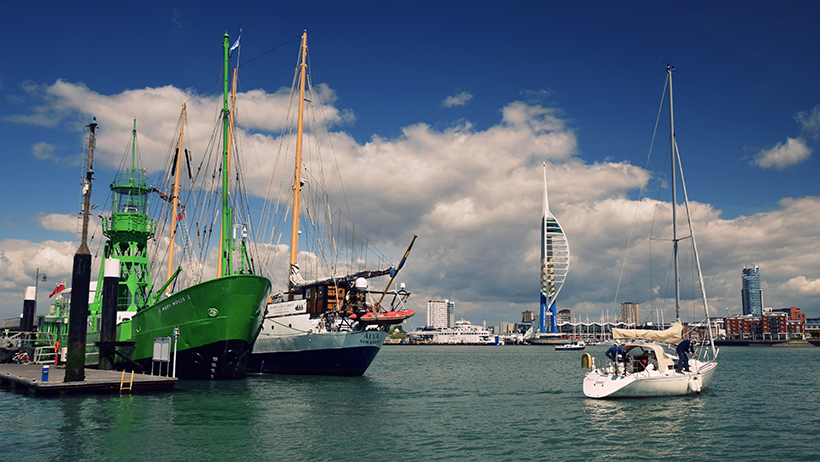 ACCESS
All vessels under 20m must enter and leave the harbour through the Small Boat Channel on the western side of the harbour entrance. When approaching from the west, boats should approach the harbour through the Swashway (also used by ferries and commercial vessels). This runs 49 degrees (true north) on the right-hand edge of the prominent block of flats in transit with the War Memorial.
When approaching from the east, beware of the submarine barriers which run due south from Southsea sea front to Horse San Fort and are a hazard to all craft. There are two passages through the barrier – the inner passage approximately 200m off the beach (marked by green and red piles) and the outer passage approximately 0.8nm off the beach (marked by a quick flashing red dolphin and a green pile).
If arriving by road, follow sat nav directions for Haslar Marina, Haslar Road, Gosport, Hampshire, PO12 1NU. The car park is clearly marked by two big green buoys.
To get to Haslar Marin by train, turn left out of Portsmouth Harbour railway station, following signs to Gosport ferry (two-minute walk). After taking the Gosport ferry (four-minute crossing), turn left ​out of the ferry terminal and follow the footpath south, towards the marina. Enter the marina either via the north gate ​(three-minute walk) or continue along the footpath until you reach the marina office (eight-minute walk).
CRUISING
Cruising from Portsmouth allows easy access to the Isle of Wight, where you will discover fine beaches, the famous Needles rock formation, the Cowes Week regatta and a pace of life that recalls the golden age of the British seaside town.
A short hop from Cowes to Southampton is an excellent choice. With a family atmosphere, and access to plenty of shops, this popular destination is a hotspot for sailors who are looking to undock in familiar surroundings.
For a longer cruise, the picturesque town of Lymington is ideal. Whether your appetite is for yachts, racing or cruising, there are so many ways to make the most of your time in Lymington. Nestling against the stunning backdrop of the New Forest, it is hard not to surrender to Lymington's nautical charms with cobbled streets and a fantastic choice of eateries and pubs. Simply enjoy the sunshine and discover magnificent views as you explore the sheltered waters of the Solent, beautiful Dorset coastline and beyond.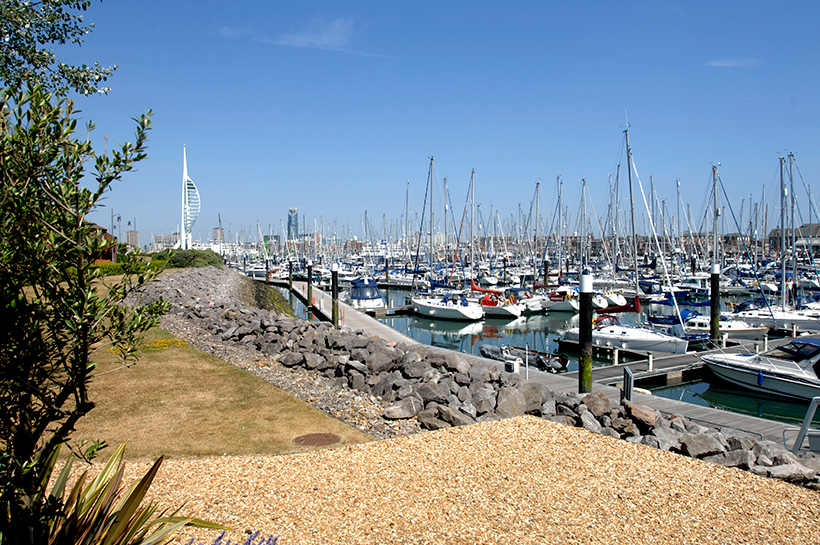 LOCAL EATERIES
There are two restaurants on-site. Both Trinity's at Haslar and Trinity's at The Lightship have been described as hidden gems by many. These venues offer such unique charm, you will be hard pushed to find anywhere else. However, if you are after something different, you will be spoilt for choice with the restaurants between Gosport and Portsmouth.
THINGS TO DO
Conveniently located just inside Portsmouth's famous historic harbour, Haslar Marina is on the doorstep of an irresistible mix of fascinating places to visit and things to do for all ages. You can enjoy 24 miles of waterfront, safe beaches, impressive naval heritage, plenty of watersports and historic trails.
The Solent plays host to many international sailing events including The America's Cup World Series, Cowes Week and Round the Island.
Portsmouth's Historic Dockyard gives you first-hand experience of the legendary ships that once sailed through the harbour entrance, and one day every summer a cricket match is played in the middle of the Solent.
Haslar is the perfect place for a weekend or a longer stay. Gosport has beautiful beaches and fantastic walks either along the waterfront or in the wild grounds of Alver Valley. The town centre is conveniently located approximately 200m from Haslar. Perfect for relaxed shopping, the High Street has an interesting blend of smaller shops and cafes, offering choice and personal service, as well as major high street names. Or if you fancy a full day-out, why not hop over the water to Gunwharf Quays for some retail therapy.
Established in 2009, the Haslar Yacht Club welcomes anyone who enjoys boating in the Portsmouth Harbour area. The club has been going from strength to strength each year, with numbers increasing in both sailboats and motorboats. The Gosport Model Yacht and Boat Club is located just north of the crew car park.
PERSONAL RECOMMENDATIONS
"The staff are friendly, the facilities are great. Nothing is ever too much hassle for anyone. It was the best move we made coming to Haslar Marina, and we are pretty gutted we had not moved here before. Thanks to all the team for your hard work."
Bex Florence
(Bex owns a fishing charter business called Kelly's Heroes Fishing Charters and they operate two 11m catamaran fishing boats out of Haslar.)
---
Haslar Marina
Marina manager: Ben Lippiett
Marina phone number: 02392 601 201
Email: haslar@boatfolk.co.uk
Haslar Marina
Haslar Road, Gosport
Hampshire PO12 1NU
(entrance clearly marked by two green buoys)
---