Sunseeker Southampton has announced its line-up of luxury motor yachts on display at the British Motor Yacht Show, 15 – 19 June.
The 88 Yacht, 76 Yacht, Predator 74 XPS, Manhattan 68, 65 Sport Yacht and Manhattan 55* will be available to view at Swanwick Marina, Southampton, for the five-day event.
Sean Robertson, sales and marketing director at Sunseeker International, said: "The British Motor Yacht Show is a fantastic opportunity for us to present our new yachts ahead of the summer season. We've got some beautiful yachts on display from across the range, whether prospects are looking for an exhilarating performance in a Predator, relaxed living on-board a Manhattan or 'wind in the hair' moments on a Sport Yacht, Sunseeker has one of the most up-to-date product ranges on offer in the market today, promising to deliver an exceptional ownership experience."

88 Yacht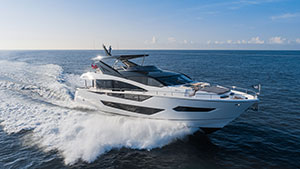 The all-new 88 Yacht perfectly showcases Sunseeker's new-found design direction. There is an abundance of social spaces on board, making it the perfect place to spend quality time with family and friends. The vast flybridge enjoys a superb layout with beautifully appointed furniture on the spacious aft deck and the option of an infinity spa bath with sun pad. It's a brilliant space for entertaining with ample places to sit and relax thanks to companion seating adjacent to the helm and extended U-shaped seating opposite a feature wet bar with everything you could need for a fabulous get together. Owners can also opt for fixed stools to turn this into a lively bar area. The teak foredeck features another private, social space with a large sunbathing area and comfortable lounge seating complemented by premium teak side decks as standard.
Exemplifying the very best in technical excellence, the 88 Yacht features Sunseeker's X-TEND™ transom seating system that cleverly converts at the flick of a switch, facing rearward at Beach Club level to facing aft into the cockpit, offering flexibility to seating arrangements dependent on owner preference. The 88 Yacht is the perfect yacht for relaxing, entertaining and having fun with family and friends in style.
76 Yacht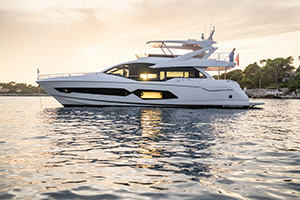 The stunning, multi-award winning 76 Yacht gives you everything you want from a Sunseeker. From exceptional sea-keeping, the latest deep-V hull design to the class-leading space throughout the beautifully appointed decks. Not only does this model cut an impressive silhouette on the horizon, but an expanse of glass and sunlight also welcomes you on-board the 76 Yacht, and the main deck allows you to entertain with an almost 360-degree view of your surroundings. For 'al fresco' life, the exterior decks provide unprecedented levels of space and flexibility to suit owner needs. On the flybridge, choose a spa tub, jet-ski with crane or additional sunbeds to maximise this space. Complement the superyacht feel with any number of layouts.
The cockpit can be adapted to include additional lounge seating or a cocktail bar. At the stern, enjoy the addition of a mini beach club, complete with a barbecue grill, fold-out seating and a rain shower, perfect for entertaining family and friends. Make the most of the extended bathing platform, which can accommodate a Williams 445 tender, SeaBobs, and more. The impressive layout of the 76 Yacht continues on the foredeck, where large twin sunbeds, fore/aft seating and optional refrigeration ensure space maximisation for any social occasion.
Predator 74 XPS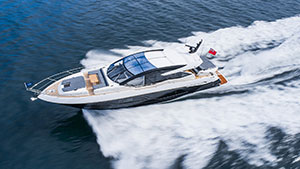 The Sunseeker Predator 74 XPS features dramatic new styling and numerous luxurious appointments, only available together as part of a limited edition package. Available with twin MAN V12-1900 engines delivering 40 knots, this yacht offers performance and style with a multitude of interior and exterior design enhancements.
The new design extends throughout the interior. The use of exquisite woods, luxurious contrasting fabrics and rich lacquers throughout, paired with new indirect and dimmable lighting, creates a sophisticated and striking ambience. Bold new options include carbon fibre trims, sharp accent designs, reflective surfaces and stainless-steel cabinet detailing.
The exterior social spaces have a cutting-edge feel, with the Predator 74 XPS featuring an electric lowering, carbon fibre cockpit table and enhanced upholstery across all seating and sunpads. Attention to detail is exemplary in every area, including sleek new LED navigation lights. If owners want the ultimate expression of the XPS models, their yacht can be specified with a stunning dark grey hull with a silver superstructure, ready to turn heads.
Manhattan 68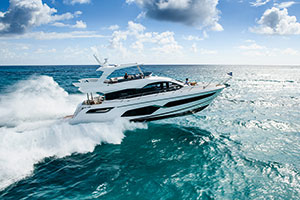 Building on the family of award-winning Manhattan models, this new addition to the range has been designed to offer exceptional levels of comfort and luxury with incredible detailing. With the feel of a much larger yacht, it delivers a unique contemporary space that maximises on entertainment options.
She enjoys an expansive cockpit, main saloon area with sumptuous lounge seating and a fully-equipped aft galley. The innovative and meticulous design that has gone into the layout of the main deck makes this the perfect boat for welcoming guests; with a strong focus on ambient lighting and interior detailing. From the generous saloon and upper aft galley, through to elevated companion seating at the helm, this exceptional layout allows the owner and guests to move effortlessly between spaces. Interestingly, where a lower galley is specified, the space can be utilised as an additional saloon 'snug' or feature bar, seamlessly integrating with the main living space.
The flybridge has been designed with an integrated hard-top option in mind and features large forward sunbathing areas and a second helm. It also offers extensive seating with open space for freestanding furniture customised to the owner's choice. The wet bar has been designed for multiple uses and now includes built-in storage, BBQ and refrigeration options to create the focus for yet another social and entertaining space.
Available with a range of engines including the Twin Volvo Penta IPS 1350 and Twin MAN V8 1000 or 1200, the Manhattan 68 is perfect for extended cruising with a 300-mile nautical range. Utilising space, innovation and design, the Manhattan 68 is the ideal long-range cruiser with unparalleled comfort.
65 Sport Yacht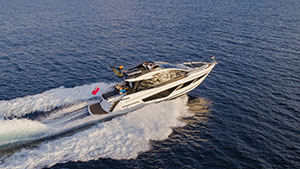 The Sunseeker 65 Sport Yacht is fundamentally different from the current Sunseeker range in the 60ft segment due to its sculptured exterior design, innovative helm concept and stylish interior appointments. Her sleek exterior profile, with an almost invisible minimalist bridge deck, has been enhanced by the addition of rakish hull glazing, emphasising her modern sporting prowess whilst increasing natural light into the lower deck spaces. The dramatic exterior is a striking blend of tinted glazing, teak, carbon fibre and polished stainless steel, perfectly balancing traditional Sunseeker design concepts with cutting-edge material innovation to create a dynamic performance model.
Central to this yacht's appeal, owners can specify a revolutionary and exceptionally innovative 'SkyHelm™'. Featuring twin bolstered seats set very low on either side of a central console, the instrumentation is courtesy of a state-of-the-art glass bridge plotter complete with retro chrome dials housing LED displays. This design sets off a very modern fully-carbon steering arm that the driver can raise to ease ingress into this racing-cockpit design or locked in a raised position for helming while standing. Altogether, the experience is one of pure adrenaline, akin to driving a high-performance convertible supercar.
Owners can tailor the layout below decks, with the option to have an Owner's office linked to the master stateroom, single berth, lower deck galley or saloon. This level of customisation offers flexibility to suit the exact requirements of any owner.
Manhattan 55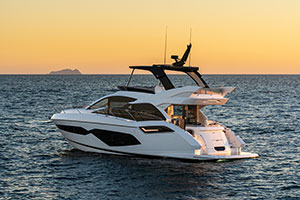 Exemplifying the latest in Sunseeker's exceptional design capabilities, the Manhattan 55 enhances comfort and cruising whilst providing owners with several social spaces from the vast flybridge to the generous saloon. The open-plan layout allows owner and guests to move effortlessly between entertainment spaces.
A key feature that truly sets the Manhattan 55 apart from its peers is the innovative powered glass cockpit/galley window that can be lowered at the touch of a button. With the adjacent cockpit door open, this feature creates an exceptional inside/outside environment. The interiors boast exquisite attention to detail with a new palate of upholstery that provides a contemporary look. The lighting design is considered throughout and includes concealed lighting within ceiling panels and furniture. Powered by new Volvo Penta D13-800 engines, the Manhattan 55 can cruise comfortably at 25 knots with a range of 230 nautical miles or achieve more than 30 knots at full throttle.
---
Please contact Sunseeker Southampton on +44 (0)1489 579 824 or info@sunseekersouthampton.com to book a viewing.
*Please note: the line-up of yachts on display is subject to change.