The Golden Globe Race is a single-handed, non-stop round-the-world race, with no assistance, no GPS and no modern electronics on board. The adventure will start on 4 September 2022. 
In 1968-1969, Sir Robin Knox-Johnston won the Sunday Times Golden Globe Race, the first solo, non-stop, round-the-world race in history, sailing for 312 days. In 2018, 50 years later, this legendary adventure was reborn in Les Sables d'Olonne for a second edition with the same navigation aids as those available in 1968. French sailor Jean-Luc Van Den Heede won the race in 211 days.
In the last edition, the competitors had to go around two compulsory rounding marks: Lanzarote and Hobart. Now the course has been modified with two additional marks: Cape Town in South Africa and Punta del Este in Uruguay. The skippers will be able to drop their recorded videos and photos at these four gates without getting in contact with anyone and without docking, allowing them to share their adventure.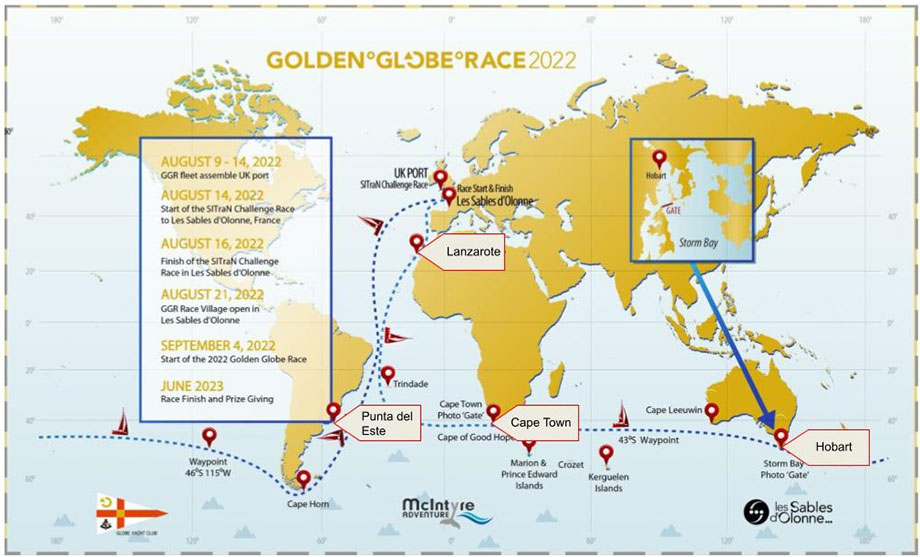 In total 23 sailors from all over the world will embark on an adventure of a lifetime for more than 200 days – away from the rest of the world, navigating with a sextant only. Most of them have already sailed around the world several times or have participated in the biggest offshore races.
Some returnees from the last edition are taking up the challenge again, like Turkish sailor Ertan Beskardes and Finnish sailor Tapio Lehtinen, who finished fifth after 322 days at sea. Australian Mark Sinclair, who was forced to stop, is currently sailing from Australia to France – finishing his one-stop circumnavigation in April this year just to embark again on a new round the world tour with the GGR 2022 in September.
Seven participants must cross at least one ocean to reach Les Sables d'Olonne – an adventure within the adventure. Preparing the boat for a round-the-world competition is already a challenge, but now they have to bring their boats to the right side of the Atlantic to make the start in Les Sables d'Olonne. This is the case for Elliott Smith (USA), Gaurav Shinde (Canada), Guy deBoer (USA), Jeremy Bagshaw (South Africa), Matthew Wright (Australia), Kirsten Neuschäfer (South Africa) and Mark Sinclair (Australia).
So far 11 of the 23 skippers have arrived in Les Sables d'Olonne for briefings and work sessions organised by Don McIntyre to get prepared for this extraordinary adventure.