ePropulsion UK are teaming up with Plymouth-based dealer, Blue Electric for the second and expanded Green Tech Boat Show, 16 – 18  June, taking place at Queen Anne's Battery in Plymouth.
As well as discovering the full ePropulsion range of powerful electric outboards and POD drives for yachts, it is an opportunity to hear from renown yachtsman Conrad Humphreys about making the switch to green power.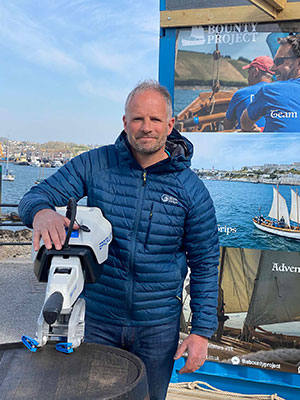 Conrad's credentials as a multiple Round the World yacht race skipper, inspirational speaker and leadership coach led him to set up his Sport Environment business to help brands and sports events to become better custodians of the planet. In addition, after being professional skipper on board The Bounty in Channel 4's recreation of Captain Bligh's epic voyage, he founded Blue Electric.

"After converting Bounty to electric propulsion for working duties around Plymouth, we launched Blue Electric to help our customers understand the challenges and opportunities when choosing an electric propulsion system for their boats," explained Conrad.
"ePropulsion have stood out as the clear market leader for recreational yachts and small boats. We have now have a showroom and an onsite test and demo centre at our facility in Turnchapel Wharf and at the Mount Batten Watersports Centre."
The Green Tech Boat Show is the only dedicated UK showcase of the latest environmentally friendly marine technologies. Conrad will also be doing a livestream from The Bounty and talk at the event's Innovation Hub.
The ePropulsion team will be available throughout the show to discuss your boat, plans to convert to electric propulsion or specifying requirements for a new build.