Barton Marine will host live demonstrations, competitions, and giveaways on stand F64 at the RYA Dinghy Show 26 – 27 February in Farnborough.   
The Barton team is displaying and selling the full dinghy equipment range to visitors from the stand – and keep an eye out for the huge multi-rider SUPs donated by Barton positioned around the show for the RYA Onboard programme!
Barton's new SkyDock solves your storage problems for outdoor gear and the crew have constructed a full size SkyDock display to demonstrate how to store all your dinghies and water toys when not in use.  Come and see how easy it is to lift kayaks and other equipment smoothly and safely out of the way with our unique self-locking block system delivering 3:1 or 4:1 purchase for secure loading and lifting.  Test out this hot new storage system for yourself.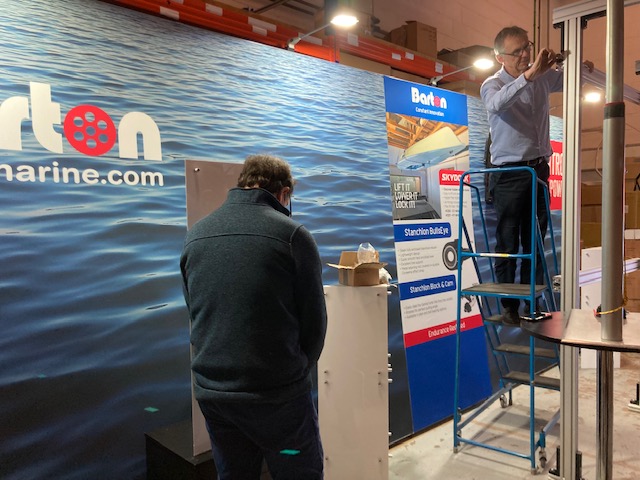 For a chance to win some of that new gear you have your eye on for the 2022 season, come and guess how many Barton size 0 blocks are in our giant glass jar!  Better than a sight from a sweet shop, the team have taken the largest glass jar they could get their hands on and crammed it full of size 0 blocks and all you need to do is guess the right number to win a voucher worth £100!  If there is a tie, then you'll have to guess the weight!  Bear in mind, the Barton size 0 is the lightest block in its class, so it might not be as much as you think!
The expert team of in-house dinghy sailors and deck gear connoisseurs will be on hand to guide you through the Barton range and help choose the perfect kit for repairs, upgrades and full rigging projects.  With over 1500 precision engineered products in the range it's a fair bet they can provide for any deck gear solutions you require.  From ex GB Olympic squad sailor Christian Brewer to Harry Newton, our Barton Rising Star, there is a wealth of knowledge to tap into and collect an exclusive 'Barton Racing' hull sticker in the process.
Away from the stand you will notice several huge SUPs around the show.  At nearly 6 meters long, it will be hard not to notice them!  Working with the RYA Onboard Programme, Barton sponsored eight of these huge SUPs to encourage crews of youngsters to venture out on the water.  Having freshly arrived from the factory, you'll be the first to see these mega boards on tour before hitting the water at RYA events around the country.
---
You will get a warm welcome from the Barton team on stand F64 opposite our pals at Rooster, so come aboard and see you at the show.