Reeds Nautical Almanac 2024 
By Perrin Towler & Mark Fishwick
£50 | paperback
Known as the Yachtsman's Bible, Reeds provides all the information required to navigate Atlantic coastal waters around the whole of the UK, Ireland, Channel Islands and the entire European coastline from the tip of Denmark right down to Gibraltar, northern Morocco, the Azores and Madeira. Having celebrated its 90th anniversary last year, the 2024 Almanac continues the tradition of year-on-year improvement and meticulous presentation of all the data required for safe navigation. The 2024 edition includes 700 harbour chartlets; tide tables and tidal streams; buoyage and lights; 7,500 waypoints; invaluable passage notes; distance tables; radio, weather and safety information and a first aid section. Includes a free Reeds Marina Guide.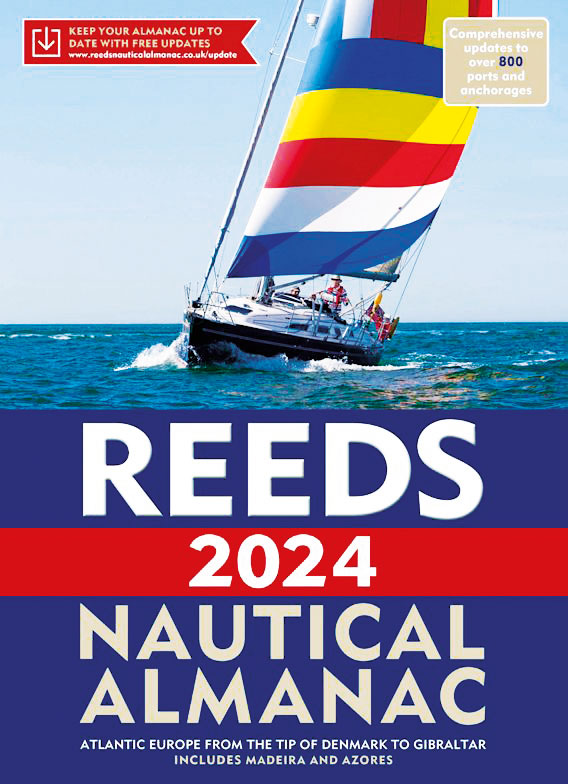 Closing date: 28/11/23. The winner will be notified by email. The winner(s) will be the first correct entry drawn at random after the competition closing date. The draw is final and no correspondence will be entered into. Open to residents of the UK aged over 18. No cash or alternatives will be offered. If any prize is lost or damaged during the course of delivery, All at Sea will provide reasonable assistance in seeking to resolve the problem, but it will not always be possible to obtain replacements for lost or damaged goods, and in that event no financial compensation would be payable by All at Sea or their affiliates. By entering you agree to be bound by all the rules and agree that your name and county may be published in the paper if you win. Please indicate on your entry if you do not wish to receive information about other products and services from All at Sea and competition provider by post or email.