The man who launched boating charity Wetwheels a decade ago to give disabled people the opportunity to feel "free and independent on the water" has announced expansion plans to allow 100,000 participants to enjoy the life-changing experience around Britain.
Wetwheels founder and pioneering disabled yachtsman Geoff Holt MBE DL launched the £1m fundraising campaign to increase the number of its specially-built, fully-accessible powerboats to 10 by 2026 at the charity's 10th anniversary celebration, held at Southampton International Boat Show.
Geoff, who was paralysed in 1984 and uses a wheelchair, said: "I launched the first Wetwheels boat in the Solent in 2011 to give disabled people the feeling of freedom and independence that you get from being on the water – it is something you cannot gauge until you see the smile on their faces.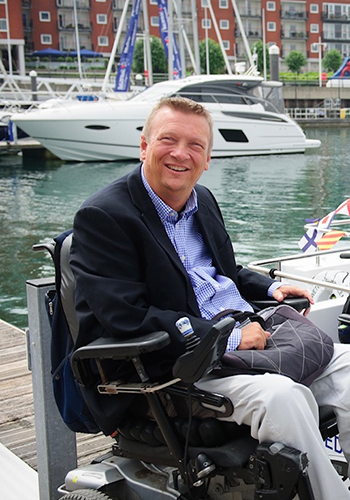 "The Wetwheels Foundation has come a long way in 10 years, during which 35,000 disabled people have accessed the sea on board our boats. We are now delighted to unveil plans to expand the availability to even more disabled people throughout the UK who would not otherwise have the opportunity.
"Wetwheels' 10th anniversary event launches our £1m bid to increase the number of our boats from six to 10 – starting with our next boat in Port Edgar Marina in Edinburgh in 2022."
Wetwheels currently operates from Hamble and Portsmouth in Hampshire and locations in Kent, Cornwall, Yorkshire and Jersey – allowing disabled people to actively participate on a coastal boat ride to help build confidence and improve their wellbeing.
In 2007, Geoff became the first severely disabled person to sail single-handed around Great Britain and in 2009, he sailed unassisted across the Atlantic Ocean.
He said: "There is something very special about being on the water. For someone with a disability, being at sea offers unparalleled freedoms and greatly improves their wellbeing.
"Your mind and imagination fill with things that once did not seem possible and I am proud of all our achievements over the past decade – we now look forward to giving our unique experience to many more people in the future."
---
Find out more about the Wetwheels Foundation at https://wetwheelsfoundation.org/