From the fastest, largest motor yachts to the UK debut of the Float8 luxury floating home, right through to the genius ultra-compact packraft from Paqualife, small enough to fit into a rucksack, there are hundreds of exhibitors displaying many methods to get on the water along with products, services, and technical innovations.
In terms of gadgets, if space is tight, why not buy the world's first rollable boat hook? Revolve Technology's innovative compact and yet practical boat hook rolls down to the size of a coffee cup making it easy to stow and carry.
Also, on show for the first time in the UK and Europe, Ocean Arts will be creating a colourful splash with its Marine Shield lightweight UV strip paint. This painting system enables sailmakers to apply strips of UV coloured paint onto sails, instead of having to use traditional sewn on UV strips or different colour fabrics, so boat owners, clubs, sailing schools and manufacturers can design really creative and outstanding sails whilst still ensuring longevity through UV protection.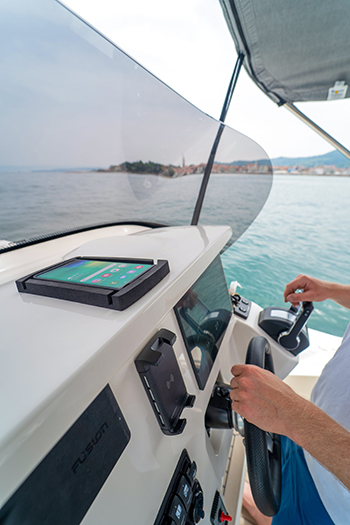 Launching at the show, Escape's portable loudspeakers from Ultimate Stream are weatherproof, wireless and rechargeable, giving over 8 hours of high-quality listening pleasure indoors or outdoors. Keeping your phone fully charged wherever you are is no longer an issue, with the world's first ROKK Wireless 12/24V waterproof charging phone mat from Scanstrut. Designed to install onto any flat surface, perfect for use on top of boat consoles, the phone simply sits on the mat with its cleverly designed edging bumpers to stop it sliding out, whilst the Qi-certified wireless charging technology with foreign object detection and intelligent thermal cut-off, guarantees safe and reliable charging in all environments.
If 'working from home' really means 'working afloat' then Cactus' 4G Xtream from Digital Yacht offers connectivity at up to 300MBs and up to 25 nautical miles offshore, enabling Zoom calls and emails whilst access to Netflix and iPlayer also guarantees the kids and others on board love their time afloat too.
See the smallest, lightest and most powerful new Paguro generators on Advance Yacht System's stand, and visit Marine Energy System's stand for the latest technology to prevent underwater corrosion with EasyAnode. Also making its world debut on the Marine Energy System stand is the Ajax wireless security system which guards and monitors vessels and their safety whether at sea, or in the marina, at anchor or on the hard against intruders, fires and water leaks. Another new boat monitoring system just launched and on show for the first time at Southampton is NE1Connect Ltd's Boat-Hawk which enables users to view, set and alter alarms from home with the boat's information viewable on smart phones, tablets, PCs, Macs, Chromebooks and even Amazon Fire.
From rolling up sails using Rolly Tasker's new Sveggen furler systems to reducing rocking and rolling on board with Golden Arrow Marine's UK launch of SmartGyro, there really is something for everyone at the show, even a new range of Excelleron Wave stainless steel boat trailers from Vandaes, being shown for the first time at Southampton
Artificial Intelligence is the key behind Oscar Sentry's technology which enables reliable and safe identification of millions of detected objects at sea including non-signalled small craft, buoys and other floating objects. Bringing 360° advanced detection and identification capabilities to the bridges of motor yachts, Search and Rescue and Coast Guard vessels as well as commercial craft, OSCAR can also support search efforts in Persons On Board (POB) situations and can be seen on the BSB Artificial Intelligence stand.
From AI to ABC, Southampton International Boat Show is also the place to pick up next year's Almanac, Books and Charts. This year sees the launch of Shipshape, written by passionate sailor, instructor and business leader Nick Bashford which brings together the world of a yacht skipper and business leader, describing what sailing can tell us about the art of business leadership and strategy. Nick will be on hand to sign his book to a preview audience from Friday 10th September on the Shipshape stand, prior to general release on 17th September.
---
Advance tickets for the Boat Show can be purchased online at www.southamptonboatshow.com
The show is open from 9.30am to 6.30pm, with the Festival Green area remaining open to enjoy outdoor refreshments, food and entertainment until 9.30pm each evening.